…AND WE'VE GOT A FILM FESTIVAL!!!
FIRSTLY, A LITTLE BIT OF HISTORY: Once upon a time much of this area was covered by the Great North Wood. Gipsies camped here. Paxton rebuilt the Crystal Palace here.
Camille Pissarro painted here. Eleanor Fortescue Brickdale was born here, attending Crystal Palace school of art. Another woman artist, Henrietta Rae, and her husband Ernest Normand lived in Fox Hill Gardens and had a studio in the garden of 153 Auckland Road.
 Emile Zola photographed the area. Ken Russell filmed scenes on the long-gone Crystal Palace high level station. Many people know the area as Upper Norwood, these days it's more commonly known as Crystal Palace…
WELCOME WELKOM VELKOMMEN WILLKOMMEN ECOUTER TO CRYSTAL PALACE
The main jewel of the area is the Upper Norwood joint library which sits in Westow Hill on one side of the main 'Triangle' area – so called because of – doh! – its triangular shape. Wonderful staff, all sorts of events going on there and one of the best children's librarians in Greater London.
There's also a hugely popular food market which began in May 2013, all sorts of nooks and corners where you'll find second hand markets, art studios, a recording studio and a plethora of shops selling all sorts of things retro.
Geography: The Crystal Palace area sits in or on the edge of five London boroughs – Bromley, Croydon, Lambeth, Southwark and Lewisham. The main shopping area is the aforementioned Triangle bordered by Westow Hill, Church Road (part) and Westow Street. (Crystal Palace is the only area covered by five boroughs. Some areas of London are covered by three boroughs, none by four boroughs.)
ESSENTIALS
If you've just moved here, are staying in one of the area's hotels or with friends / relatives the first essentials are probably going to be cashpoints, supermarkets, post office, and transport.
CASHPOINTS
Sainsbury's supermarket, Westow Street has its own – free – cashpoints (two) on the right hand side wall outside its main entrance.
Lloyds TSB 84 Westow Hill (closing in April)
There are three ATM's on Westow Hill – outside Londis (opposite the end of St Aubyn's Road); outside Morley's on the corner of St Aubyn's Road, and outside Sweets newsagents very close to the corner of Westow Street. Another has just been installed on Church Road almost opposite the White Hart pub.
POST OFFICE:
Loco newsagents (rear of shop) 55 Westow Street (opposite Sainsbury's)
SUPERMARKETS:
Co-op Central Hill (in former Costcutter)
Iceland 19 Westow Hill
Sainsbury's Westow Street
TRANSPORT: Most of the local bus services leave either from the bus station on Crystal Palace Parade or have stops on the Parade itself. Other routes which just miss the Parade are the 249 and 432 which go down / up Anerley Hill
The number 3 bus from the bus station at the Triangle end of Crystal Palace Parade takes you to Brixton (Underground – Victoria line)  then on into central London, crossing the Thames and passing the Houses of Parliament and Trafalgar Square before finishing its journey at Oxford Circus.
IMPORTANT: London buses no longer accept cash fares  as Transport for London (TfL) have changed to a cash free bus network across the capital.

This means that all passengers boarding a bus in London will need to be in possession of a prepaid or concessionary ticket, Oyster card or contactless payment card.
STATIONS: British Rail stations at Crystal Palace (just off Anerley Hill) and Gipsy Hill (on Gipsy Hill). You can also catch the Overground from Crystal Palace (part of the Undergound) which takes you into east London.
BE AWARE: Off peak cheap rail tickets are NOT valid coming back from London during certain times. Please check when you buy your tickets. (This does not apply to the Underground or Overground)
(There's several newsagents and more restaurants – 35 different national cuisines according to one estimate – than you can throw a dead sheep at.)
_________________________________________________________________________________________
ONCE YOU'VE SETTLED IN AND WANT TO START TO EXPLORE BUT PLEASE CHECK BEFORE GOING TO ANY LISTED EVENTS:
CULTURAL:
Dinosaurs: the first 'must see' stop. These monsters can be found in Crystal Palace park between the National Sports Centre and Thicket Road. Designed by Waterhouse Hawkins, who lived at 22 Belvedere Road. http://www.crystalpalacepark.org.uk (Another dinosaur has recently surfaced in the yard in Haynes Lane where the collectables market and part of the food market are….Maybe it was hungry.)
Friends of Crystal Palace Dinosaurs aim to promote long-term conservation of the dinosaurs and raise funds in support of this aim; encourage research, interpretation, engagement, and access related to the dinosaurs; and work with other stakeholders towards broader aims in Crystal Palace Park

The term "dinosaurs" refers to the sum total of the approximately thirty paleontological statues, five geological displays, and related landscaping in the vicinity of the tidal lake in Crystal Palace Park. cpdinosaurs.org.
Library: Upper Norwood joint library. Westow Hill, corner of Beardell Street. So called because it's been run jointly by the London boroughs of Croydon and Lambeth and is the country's only independent library – and nothing to do with 'waccy baccy'.
Great staff – including one of Greater London's best children's librarians – who keep the place going brilliantly despite funding problems and massive staff cutbacks. uppernorwoodlibrary.org
Also the new home for Norwood Society local history meetings. These are held on the third Thursday of every month (excluding July and August). Admission free, all welcome. Donations for tea and cakes during the interval appreciated.
Life Drawing Club
Come along to the library on the third Thursday in the month from 6:30 – 8:30pm to draw a nude model. Next dates: 18th Feb & 17th March 2016. Tom Hughes will be leading this untutored drawing session. Please bring your own materials, however some basics are provided. £8 entry.
Beginners' Drawing Class
Come along to the library every Tuesday from 6 – 7pm to draw fruits, teapots, & much more. Tom Hughes,our staff artist, will be available throughout with friendly, constructive advice. Pencil and paper are provided. £5 entry
The Norwood Society
The next Norwood Society history meeting will be on March 17th at 7.30pm
                                                                                             Margaret Lockwood
Film historian Lucie Dutton will talk to us about the life of the actress Margaret Lockwood, who was a regular user of this library when she lived in Gipsy Hill.
Age: All
Charge: Free, but donations welcomed.
Refreshments will be available.
Book Club on Saturday 27th February 2.30 to 3.30pm.The 25th Book Club title is Peripheral by William Gibson. Several copies are available at the library (if you can't see it on display at the counter, just ask), or, if you show your library card to the bookseller and mention the UNL Book Club at The Bookseller Crow on Westow Street, you will get £1 off the paperback edition. The group is growing with each month, which is great! However, as we are usually full, remember to contact Rita (details below) to confirm if you will be attending at least a week before the next gathering. Also, if you have any queries or special requirements, please contact Rita at rchakraborty@uppernorwoodlibrary.org or rchakraborty@lambeth.gov.uk, by telephone on 020 8670 2551/020 7962 1063 or in person. Age: Adults (16+) Charge: Free, but donations welcomed. If you have the need to read, join us! Refreshments will be available. The book for March 2016 is to be confirmed. The discussion will take place on Saturday 26th March at 2.30pm. Please let Rita know if you will attending it.
Museum: Crystal Palace museum. Close to the top of Anerley Hill in the former Crystal Palace school of engineering. Open Saturdays, Sundays and Bank Holiday Mondays 11 am to 3.30 pm (winter) 4pm (summer!) Last entry half an hour before closing. Admission free.
Official Crystal Palace Museum Tours
When: 12 Noon prompt, every 1st Sunday of the month from April – October. Length: 1 hour and 45 minutes (Starting and ending at the museum).  Prices: £3.50 Adult; £3.00 concessions.
Tickets available on the day, at the museum, from 11am onwards – please allow adequate time to buy your ticket for a 12 Noon start. In exceptional circumstances the tour maybe cancelled in which case a message will be posted on the website homepage and on the museum answerphone.
Note: The walk focuses on the upper part of the park, where the exhibition building and gardens were laid out, and does not include the dinosaurs. http://www.crystalpalacemuseum.org.uk
(more museums listed below)
Subway: Reputedly designed – although there's no evidence to support this –  by Edward Barry, the son of Charles Barry who designed the Houses of Parliament, this subway was built under Crystal Palace Parade to link the already built Crystal Palace high level station (demolished in the 1950s) with the Crystal Palace. Currently closed to the public.  Friends of Crystal Palace Subway website: cpsubway.org.uk
_______________________________________________________________________________________
CULTURAL – THE ARTS
Artists: There are several artists workshops in the area – Coopers Yard (off Westow Hill by the side of the Iceland store) and Paddock Passage off Westow Street.
Life drawing: Upper Norwood joint library. Held on the third Thursday evening  (6.30pm to 8.30pm) and third Monday morning of each month (11am to 1pm). Untutored. Please bring your own materials (some basics provided). £8 Tea and biscuits included
Paintings and prints: Inaspace gallery 16 Westow Street http://www.inaspacegallery.co.uk
Paintings and prints:  Picture Palace picture framers at 65 Westow Street (opposite Sainsbury's) has a wealth of framed and unframed paintings, posters and prints at ground level and above. http://www.the-picturepalace.com/
The Arts – GALLERIES
Dulwich Picture Gallery http://www.dulwichpicturegallery.org.uk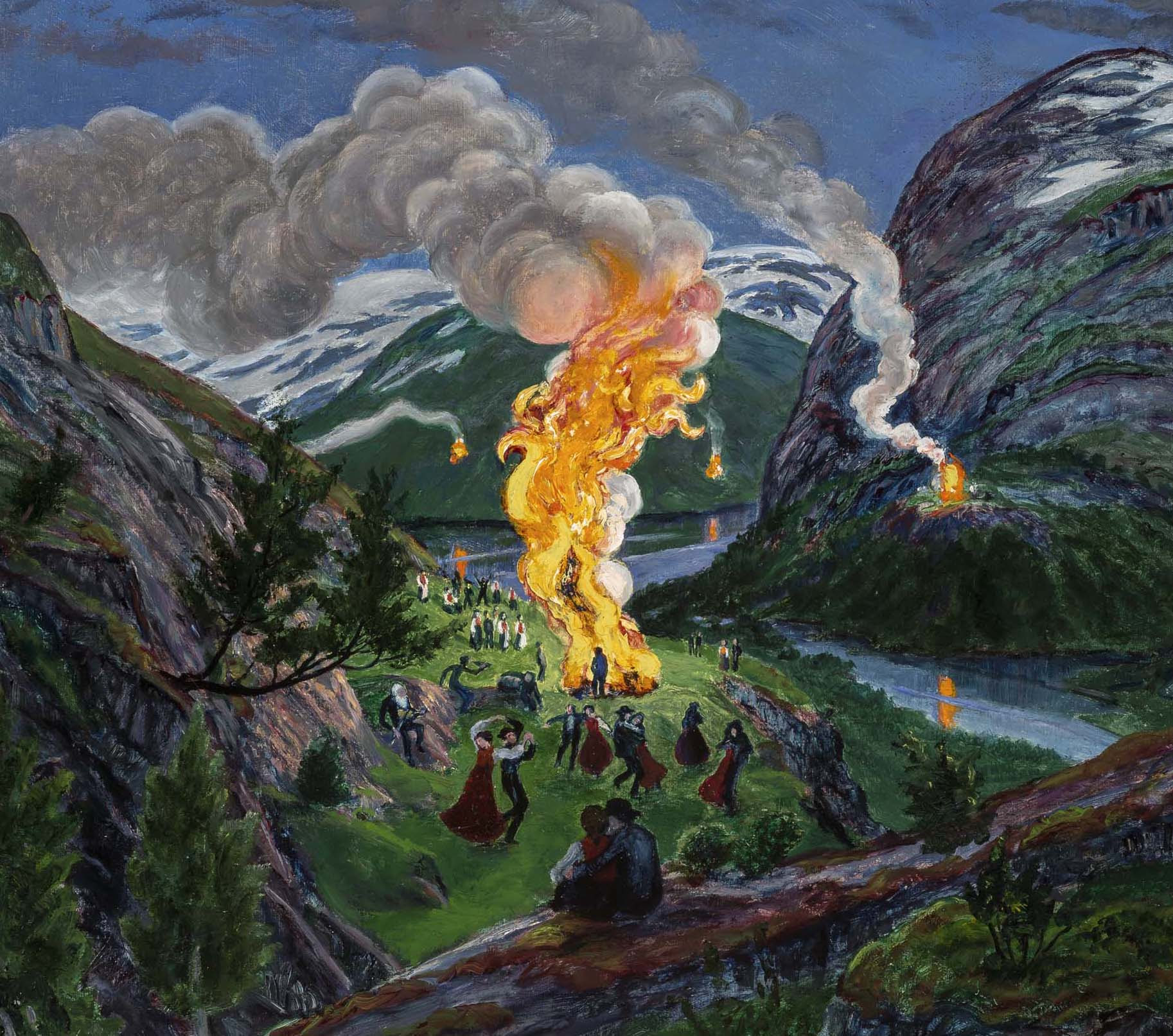 Image: Nikolai Astrup, Midsummer Eve Bonfire, After c.1917, Oil on canvas, 60 x 66 cm, The Savings Bank Foundation DNB/The Astrup Collection/KODE Art Museums of Bergen. Photo © Dag Fosse/KODE You can book tickets to all forthcoming events online at http://www.dulwichpicturegallery.org.uk
DULWICH PICTURE GALLERY MARCH 2016
 
EXHIBITIONS
Nikolai Astrup (1880 – 1928): Painting Norway
The first major UK exhibition of work by one of Norway's most loved artists, Nikolai Astrup (1880 – 1928). Along with Edvard Munch, Astrup expanded the artistic possibilities of woodcuts to capture the unique climate, landscape and traditional way of life of his home in western Norway evoking the country's unique traditions and folklore. Exploring the vivid paintings and radical innovations in printmaking that defined the artist's career, the exhibition will bring together over 90 oil paintings and prints, including works from private collections never exhibited before.
5 February – 15 May
MAKING DISCOVERIES
I am Van Dyck
Van Dyck's final self-portrait of c.1640, newly acquired by the National Portrait Gallery, will hang beside self-portraits by renowned contemporary artist Mark Wallinger, to explore different notions of self-portraiture. The display will also reveal new information on theGallery's best-known Van Dycks through X-Ray technology.
12 January – 24 April
SPECIAL EVENTS
Leif Ove Andsnes and Friends
Join us as we welcome Leif Ove Andsnes, the renowned Norwegian pianist, and two talented young Norwegian musicians for three special concerts in the Gallery (two different programmes). Music will include Grieg as well as contemporary Norwegian pieces in celebration of the exhibition, Nikolai Astrup: Painting Norway. Enjoy the event with lunch or dinner in the café (please purchase a combined ticket).
1 hour 15 minutes. No interval. There will be a pay bar in the Gallery cloister. All concerts are supported by Dextra Musica, and the young musicians will play instruments from Dextra's collection.
Monday 7 March
7.30 pm/Gallery – Programme 1
Concert only: £30, £28 Friends, £20 under 26.
Standing £10
Concert and Dinner (6 pm OR 9pm): £58, £56, £48, £38
Tuesday 8 March
1.30 pm/Gallery – Programme 2
Concert only: £20, £18 Friends, £10 under 26.
Standing £5
Concert and Lunch (12.00 pm): £48, £46, £38, £33
Tuesday 8 March
7.30 pm/Gallery – Programme 2
Concert only: £30, £28 Friends, £20 under 26.
Standing £10
Concert and Dinner (6 pm OR 9 pm): £58, £56, £48, £38
Painting Norway: Discovering Astrup
Join a lively day of talks to coincide with Painting Norway: Nikolai Astrup, the Gallery's first Norwegian Exhibition. Nikolai Astrup is one of Norway's finest painters and a ground-breaking printmaker. Much loved in his native country, he is little known outside it. Join the curators of the exhibition and a number of other experts in discussing Astrup, his work and his contemporaries, including Ibsen and Grieg. Discover Norway's best kept secret and learn about Norway's art and culture in day full enquiry and discussion.
Saturday 12 March
10.30 – 3.30pm
£40, £35 Friends, £30 Students
Includes morning coffee and early access to the Exhibition
Astrup Spring Evenings
Enjoy a drink in the Gallery, join an exhibition tour and try your hand at our Norwegian-inspired art activities in this evening view of Painting Norway: Nikolai Astrup. Book dinner in the café to complete your experience. Numbers are restricted for a more intimate viewing experience.
Saturday 26 March
Exhibition: 5.30 – 8.30pm, Dinner: 6.15pm & 8.15pm
Exhibition and audioguide only: £15
Exhibition and two-course meal: £37
Exhibition and three-course meal: £41
MUSIC
Lunchtime concert series
From Blues to Bach
From the Blues to the baroque masterpieces of Bach, talented musicians from Dulwich schools: James Allen's Girls School, Dulwich College and Alleyn's will perform special concerts in the impressive surroundings of Christ's Chapel. Enter from the cloister in Dulwich Picture Gallery.
Wednesday 2 March
1.30pm – 2.00pm/ Christ's Chapel
Free admission
FILM
Gallery Film
Each evening includes a complimentary glass of wine and snacks and film notes.
Bar at 7pm, screenings at 7.30pm Linbury Room.
£9, £7 Friends
To Kill a Mockingbird
(1962)
Directed by Robert Mulligan with Gregory Peck, Mary Badham and Robert Duvall. This drama was based on the 1960 Pulitzer Prize–winning novel by Harper Lee. The film, widely considered to be one of the greatest ever made, earned an overwhelmingly positive response from critics and won three Academy Awards, including Best Actor for Peck, and was nominated for eight.
Cert A/129 mins
Monday 14 March
LECTURES & TALKS
Taking Liberties
From Magna Carta to mass-surveillance, the new Contextual Lectures Series is a wide-ranging examination of rights, freedoms and civil liberties. The series will explore some of the most challenging issues facing the UK and the world today, from free speech to equal rights. Expect informed debate and critical insight from a renowned panel of speakers.
Tuesday mornings
at 10.30 – 11.30am
£12, £10 Friends
Liberties and the American Constitutional Experience
Prof G. Edward White
Tuesday 8 March
Rene Descartes, Autonomy, and the Mind
Prof Tom Sorell
Tuesday 15 March
ART FOR ADULTS
Painting
Watercolour: Still Life Reinvented
Rediscover still life as a creative source for inspiration. This course will serve as a springboard for producing new and exciting images in watercolour. Learn how to plan successful compositions and develop new observation skills. Focus on layering colours, exploring textures and creating unique narratives in your paintings. With Artist Rebecca Allen.
Three Mondays from 7 March to 21 March
10.30am – 3.30pm
£125, £120 Friends & Concs.
Drawing
Mountains and Meadows: The Nordic Style of Landscape
Looking to Nikolai Astrup for inspiration create your own series of mountains and meadows evoking the plein air atmosphere of a Nordic alpine spring. Discover Astrup's work as well as the work of other Nordic artists. The opportunity to practice with a range of media will be offered including oil pastel and coloured pencil. With artist Liz Charsley-Jory.
Five Tuesdays from 15 March to 12 April
7 – 9pm
£125, £120 Friends & Concs.
Mixed Media
Astrup: Wood Engraving
Join us for an introduction to wood engraving, a powerful method of printmaking. This is a traditional craft, yet it has a lively position in contemporary art. During the course you will create prints from your own drawings using key techniques including preparing the block, cutting the image using a range of specialist tools and printing by hand. A guided visit, with the tutor, to the Nikolai Astrup exhibition will provide a valuable opportunity to look closely at many of the points covered in the class. With artist Peter Brown.
Seven Saturdays from
12 March to 23 April
10am – 1pm
£175, £170 Friends & Concs.
ART FOR YOUNG PEOPLE
After School Workshops
Classes take place in the the Sackler Centre for Arts Education. Book online atdulwichpicturegallery.org.uk or by phone on 020 8299 8750
The Creatives Youth Engagement at Dulwich Picture Gallery
Off the Wall
Join one of our facilitators in the Gallery for a creative session led by you! Challenge perceptions of what galleries and museums are and explore universal themes of power, inequality, love, beauty and war which feature throughout the Collection through informal conversation and creative activities.
Saturday 12 March
2pm
FREE
ART FOR FAMILIES
MINI-MASTERPIECES
Experience the delights of our collection with your child age 6 – 18 months. Enjoy an informal, child-friendly gallery visit followed by a hands-on, sensory art session tailored for you and
your baby. Collection-based themes change monthly – come to one or all!
Wildlife: Animals in Nature
Tuesday, 1 March
Thursday, 17 March
10.30am – 12pm
£12 per adult and child
Family Sundays
Sackler Room and Gallery
2-4pm
On the first and last Sunday of every month families with a Gallery ticket can now enjoy a range of free drop-in activities.
Artplay
2 – 4pm
Free with Gallery Ticket
First Sunday of every month: Get creative together at Artplay, our practical drop-in session, making everything from bunting to block prints.
Astrup's Flip Book
Taking inspiration from Nikolai Astrup's childhood imagination and the landscape of Jolster, create movement drawings and rapidly flip through the pages. Watch your little drawings
spring to life! With artist Francesca Centioni.
Sunday 6 March
Gallery Stories
2.30pm & 3.10pm
Free with Gallery ticket
Participate in interactive storytelling in the main gallery. Please meet the storyteller at the gallery ticket desk at 2.30 and 3.30pm. Last Sunday of every month.
Sunday 27 March
Family Trails
Pick up your FREE family trail on the front desk, at the Friends desk or ask a Gallery Assistant.  Trails are updated frequently, and are available on both the temporary exhibition and permanent collection.
GALLERY TOURS
Enjoy a free tour of the permanent collection on Saturdays and Sundays at 3pm (Galleryadmission charges apply). Alternatively book a private tour for your group with one of ourgallery guides, by calling 020 8299 8732 or by emailing groups@dulwichpicturegallery.org.uk
South London Gallery near Camberwell Green. 65-67 Peckham Road London SE5 8UH Opening times: Tuesday-Sunday 11am-6pm (except Wednesdays 11am-9pm)
The Arts – Comedy: Antenna studios
The Arts – Music: Crystal Palace Community choir. Classical to pop, musicals to madrigals. Tuesdays 8pm to 9.30pm Goodliffe hall 1 Highland Road next to Christ Church, Gipsy Hill. Nominal fee to cover costs. http://www.crystalpalacechoir.org.uk
Lots of events in local pubs.
FOLK OF THE WOOD evening ceilidh once a month at West Norwood's Portico Gallery – full details at http://www.folkofthewood.co.uk/portico.html
---
The Arts – CINEMA
Locally, the former cinema building at 25 Church Road – closed in 1968 despite a 2,000-strong petition calling for it to stay a cinema – was acquired from Gala bingo in secret by KICC (Kingsway International Christian Centre) in July 2009 prompting a massive public outcry by the local community.
Bromley council refused planning permission for change of use to a church  in December 2009. KICC have refused at least two requests by cinema operators City Screen to buy it. In March 2015 a revised application for a church with mixed community use put in by KICC was again turned down by a Bromley council plans sub committee. (September 2015: KICC have just launched an appeal against the refusal.)  "This one may run and run." we said. Now in its seventh year! http://www.picture-palace.org
Nearest main cinemas are the Odeon Beckenham (227 or 358 bus from the bus station on Crystal Palace Parade) Empire Bromley (227 bus) or the Ritzy Brixton, run by the aforementioned City Screen. (Number 3 bus).
Empire Bromley also shows special screenings on Wednesday mornings under the title 'Empire Seniors' but age limits only apply to the certificate of the film being shown.  All three services leave from the bus station on Crystal Palace Parade.
FILM – CROYDON
The David Lean cinema Croydon Clocktower Katharine Street Croydon CR9 1ET
FILM – DULWICH
Dulwich picture gallery:
To Kill a Mockingbird (1962)
Directed by Robert Mulligan with Gregory Peck, Mary Badham and Robert Duvall. This drama was based on the 1960 Pulitzer Prize–winning novel by Harper Lee. The film, widely considered to be one of the greatest ever made, earned an overwhelmingly positive response from critics and won three Academy Awards, including Best Actor for Peck, and was nominated for eight.
Cert A/129 mins Monday 14 March
Each evening includes a complimentary glass of wine and snacks and film notes. Bar at 7pm, screenings at 7.30pm Linbury Room. £9, £7 Friends
Dulwich Paradiso film society 211 Lordship Lane, East Dulwich. email info@paradisofilm.co.uk
selondonfilmclubs.wordpress.com/east-dulwich Films on the third Thursday of every month (and the occasional children's film on Saturday afternoon), upstairs at the East Dulwich Tavern 1 Lordship Lane SE22
Dulwich Film @ The MCT – Michael Croft Theatre Alleyns school, Townley Road, Dulwich http://www.michaelcrofttheatre.org.uk
FILM – PENGE
Penge film club: Meets once a month (usually 3rd Thursday) at the Bridge House theatre in Penge for "screenings, drinks, popcorn and chat."
Facebook: Penge Film Club Tickets: http://www.bhtheatre.com
FILM – SYDENHAM
At the Golden Lion pub, Sydenham Road http://www.sydenhamfilmclub.org
The Arts – THEATRE 
BRIDGE HOUSE THEATRE PENGE
The Bridge House Theatre is situated above the Bridge House Pub close to Penge West station 2 High Street Penge SE20 8RZ
Telephone: 020 8133 0311
Parking: Free Parking is available right by the theatre Day and Night.
Buses: 75, 176, 194, 197, 227, 354, 236, 358 – all within walking distance of the Theatre.
Train: Penge West is on our doorstep and Penge East is a few moments walk to the Venue.
SOUTH LONDON THEATRE
(Temporarily located at Stanley Halls, 12A S Norwood Hill SE25 6AB Phone:020 8670 3474)
The South London Theatre is a large, well-established, repertory-style non-professional theatre currently based in South Norwood at Stanley Halls. The theatre was founded in 1967 in an old Victorian fire station (which is currently closed for renovation work), and has been thriving ever since. We operate as a members' club and are therefore always keen to attract new faces to our organisation.
In 2016 we aim to produce at least 15 shows. Each year SLT produces an inclusive and varied season, with shows ranging from Shakespeare & historical plays, to modern comedies and new writing, with at least one musical or pantomime for good measure.
All aspects of each production are run by the members themselves, so there is plenty of opportunity for everyone, not just on the stage but also behind the scenes where you can learn about lighting, sound, stage management and directing. There is also a need for members to man the box office, front of house and the members' club bar. Forthcoming productions:
East by Stephen Berkoff
Upper Hall, Stanley Halls Tuesday – February 23 – 20.00 Wednesday – February 24 – 20.00 Thursday – February 25 – 20.00 Friday – February 26 – 20.00 Saturday – February 27 – 20.00
When We Are Married by JB Priestley
Upper Hall, Stanley Halls Tuesday – March 15 – 20.00 Wednesday – March 16 – 20.00 Thursday – March 17 – 20.00 Friday – March 18 – 20.00 Saturday – March 19 – 20.00
---
CULTURAL – BOOKS
Book clubs / reading groups / second hand books
Bookseller Crow on the Hill at 50 Westow Street have a wide range of the latest titles. Includes a book club and a reading group: booksellercrowbookclub.com
Upper Norwood joint library: Monthly book club.
Second hand books: The Lane Books, Haynes Lane off Westow Street Hundreds of second hand books on a wide variety of subjects – fiction, crime fiction, sci-fi and fantasy, art, ballet, transport, pottery, history, travel, canals and waterways, esoteric, poetry, military, business,  music, etc etc Just outside Haynes Lane Market. Open Saturdays from 10.30 am, Sundays from 11am.
See also: Markets (Second Hand) Haynes Lane Market.
_________________________________________________________________________________________
CULTURAL – FESTIVALS
Crystal Palace Film Festival cpiff.org.uk
Crystal Palace Overground Festival The area's mega-event of the year. crystalpalacefestival.org The festival has now grown so large there won't be a main festival in 2016 but there will be a lot of associated events. See news stories elsewhere on this website.
Sydenham Arts Festival
_________________________________________________________________________________________
CULTURAL – MUSEUMS
Crystal Palace Museum (see above)
Horniman Museum and Gardens 100 London Road, Forest Hill http://www.horniman.ac.uk
(Following information is all from the Horniman museum)
British Vintage Wireless and Television Museum West Dulwich Telephone 020 8670 3667
The Museum is open by appointment only. Please phone in advance if you wish to visit, to arrange an appointment and request address details and directions.
There is no admission charge for individuals, but donations towards the running costs are gratefully received.
There is a small administration fee for groups of five or more people due to extra staffing required. Please contact the Museum to arrange.
---
HISTORY
CRYSTAL PALACE LOCAL HISTORY TALKS
NORWOOD SOCIETY LOCAL HISTORY MEETINGS are held on the third Thursday of every month – excluding July and August – at Upper Norwood Library, 39 Westow Hill, SE19 1TJ at 7.30 pm. Admission free but donations are welcome. Interval includes our usual refreshments of tea/coffee and cakes.
March 17th Margaret Lockwood
Film historian Lucie Dutton will talk to us about the life of the actress Margaret Lockwood, who was a regular user of this library when she lived nearby.
April 21st Out of the Borough Archives
Lindsay Ould, Croydon's archivist, will inform us of what is to be found in this part of  Croydon, in addition to the many other resources within the Croydon Local Studies centre.
May 19th 'Winifred Gérin: a writer's life from Norwood to Haworth'
Gerin spent her childhood living on South Norwood Hill. She is an important biographer of the Bronte family, and Helen McEwan, who has recently published Gerin's biography, will talk about her work and her interesting family.
June 16th Shopping at the Palace
Alun Thomas explores the history of shopping around 'The Triangle'
_________________________________________________________________________________________
LEISURE
LEISURE – For kids:
Upper Norwood library has an excellent childrens library with all sorts of events for youngsters of all ages (including babies).
New website lists London's Free Attractions The link is http://www.londonwebmaps.co.uk/ and the Twitter account can be found @londonwebmaps.
LEISURE – Parks and Open Spaces:
Beaulieu Heights: 16 acres of woodland and meadow, is one of the best kept secrets of Crystal Palace. Opened by Croydon council in the sixties, having acquired the land from the Church in 1938. This beautiful park offers stunning views over the South Downs as it drops down from Church Road below the 'other' Crystal Palace tower and forms one of the most tranquil havens in Upper Norwood. An article about Beaulieu Heights was published in the summer 2011 edition of The Norwood Review (The official journal of theNorwood Society). http://www.norwoodsociety.co.uk
Access from South Norwood Hill which is at the far end of Church Road and at its lower end from Lancaster Road.

Wildlife on site: Surveys by volunteers of the site have resulted in a tree count of 60 species and 52 species for plants and birds. A muntjac deer was also reported in the area. A volunteer with the London Bat Group identified two types of Pipistrelle bat and Noctules. (Source: Friends of Beaulieu Heights website) beaulieuheights.org
Crystal Palace park
As well as Crystal Palace park there are a couple of other parks in the area which, like Crystal Palace park, have a Friends group.
Friends of Crystal Palace Park

Volunteering in the park: The Friends meet on the second Sunday of every month – 2pm at the park information centre (opposite the cafe at the bottom end of the park)

"Come and join us for some light gardening and tidying. "We provide all the equipment needed as well as tea and biscuits at the end of the session." focpp.blogspot.co.uk
Westow park Behind Sainsbury's supermarket, Westow Street, SE19. Several entrances including one from Westow Street into Coxwell Road (opposite the Secret Garden) and another on Church Road near the top of Fox Hill.
The odd-shaped park originally formed part of the grounds of the Royal Normal College for the Blind which began life in two shops on Anerley Hill. Visible from the park is the school's old tuning house. friendsofwestowpark.ning.com
Upper Norwood recreation ground between Chevening and Eversleigh Roads. http://www.friendsofnorwoodpark.co.uk
Norwood Park Down Central Hill (opposite Virgo Fidelis) between Elder Road and Salters Hill. http://www.friendsofnorwoodpark.co.uk
Friends of Norwood Park:  "Norwood Park has some of the best panoramic views of the capital, a water play area, cafe, sporting facilities, and a unique country walk offering a place to sit and contemplate in peace surrounded by wild flowers and trees.

"The Friends of Norwood Park are always looking to the future and are dedicated to improving the facilities in the park. "In the last two years The Friends have raised funds to open an outdoor gym and refurbish the park cafe as well as launching a park safety scheme and setting up a home growing project for local people.

"The Friends now plan to improve sporting facilities and provide more amenities for young people. "By supporting us you can be part of the long-term future of this park for the whole community."
Sydenham Hill Wood and Cox's Walk. Close to the Dulwich Wood House pub on Sydenham Hill. Take the bus from Crystal Palace Parade to the last stop on Sydenham Hill and wander back to Cox's Walk where an elephant called Archie once travelled. Follow the line of the old railway back towards the pub. This is a hidden gem. http://www.wildlifetrusts.org/reserves
LEISURE – Walks
CRYSTAL PALACE WALKS – ORGANISED BY THE NORWOOD SOCIETY
 
The walks are free. Contact: norwoodshistory@btinternet.com (The walks all last circa 90 minutes)  
_________________________________________________________________________________________
FOOD, GLORIOUS FOOD! – AND DRINK…..
CRYSTAL PALACE FOOD MARKET bottom of Haynes Lane / top of Bedwardine Road. Saturdays 10 am to 3pm.
"Meat, vegetables, fruit, eggs, honey, bread, cakes, salads, hot foods, the Cafe Thing, coffee, tea, pastries, cheese, dairy and munch munch more." There is also a collection box for Norwood Foodbank http://www.crystalpalacefoodmarket.co.uk 
Norwood and Brixton Foodbank
St Luke's Church
Knights Hill
West Norwood
SE27 9HS

http://www.norwood.foodbank.org.uk
FOOD – CAFES / RESTAURANTS  etc
Too numerous to mention them all. They include:
Breakfasts: At Crystal Pantry cafe 6 Church Road from 7 am Monday to Saturday
Little Palace cafe 49 Westow Hill from 8 am seven days a week
Wetherspoon's pub The Postal Order – so called because it is housed in the former Upper Norwood sorting office – serves breakfasts 8 am to midday, seven days a week.
And also:
Boyce da Roca coffee shop 28 Church Road
Brown and Green cafe. Already in the entrance hall and on one of the platforms at Crystal Palace station they have recently  opened at the top of Belvedere Road in the former Casa Cuba.   And you can find them in Gipsy Hill station too. http://www.brownandgreencafe.com
Living Water Satisfies community cafe  46 to 48  Westow Street corner of Haynes Lane. Breakfasts from 9 am http://www.livingwatersatisfies.org.uk.
Cafe Thing (Haynes Lane / top of Bedwardine Road)
The area has an amazing mix of restaurants.
There's the award winning The Exhibition Rooms at 69 – 71  Westow Hill (corner of Jasper Road) http://www.theexhibitionrooms.com
Lorenzo's pizza next door at 73 Westow Hill http://www.lorenzo.uk.com
Joanna's restaurant 56 Westow Hill  http://www.joannas.uk.com
Comfort and Joy at 79a Church Road prides itself on its 'global' menu.
Continuing the global theme this includes:
Chinese: Chi Oriental 14 Westow Hill http://www.chioriental.co.uk (and takeaways on Church Road and Westow Street)
Italian:
Lorenzo 73 Westow Hill
Pizza at the Palace 70 Westow Hill
Ponte Nuovo ristorante bar 66 Westow Hill http://www.pontenuovo.net
Japanese: Edo 18 Westow Hill
Mauritian / Indian: Neo India 78 Westow Hill
Mediterranean: (takeaway) Crystal Saray 64 Westow Hill http://www.crystal-saray.co.uk
Nepalese and Indian: Gurkha Cottage 17 Westow Street
Yak and Yeti 107 Church Road (in the parade to the right of Belvedere Road)
Portuguese: A Torre 19 Westow Street http://www.atorre.co.uk
Sardinian: Mediterranea restaurant and pizzeria 21 Westow Street http://www.mediterranea.co
Thai:
Tamnaq Thai 50 to 54 Westow Hill http://www.tamnagthai.com
Thai Crystal  7 Westow Hill http://www.thaicrystal.net
Venezuelan: Mi Coluna es Tuya 61 Westow Street
Vietnamese: Urban Orient 74 Westow Street
BAKERIES
Blackbird bakery 71 Westow Street. Also a deli. Eat in or take away. blackbirdbakerylondon.co.uk
CHEESE SHOP
Good Taste Food and Drink 28 Westow Hill – see delicatessens.
DELICATESSENS
Bella Isola Italian delicatessen and patisserie 53 Westow Hill
Blackbird – see Bakeries
Good Taste Food and Drink 28 Westow Hill Also a deli. wwwgoodtaste-fd.co.ukee cheese shop
Piast  Polish and Continental deli 3 Holly Bush Terrace, Westow Street between Westow Hill and Paddock Passage.
PUBS / WINE BARS
Again there's a lot – almost as many as there are estate agents!
The Grape and Grain at the top of Anerley Hill is a recent winner of the CAMRA (Campaign for Real Ale) South Eastern Regional pub of the year.
There's also The White Hart on the corner of Westow Street and Church Road; Westow House at the end of Westow Hill where it meets Crystal Palace Parade http://www.thewhitehartse19.co.uk; Numidie's at 48 Westow Hill and The Sparrowhawk on the corner of Westow Street and Westow Hill.
And that's just for starters!
---
SHOPPING – MARKETS (Second Hand)
Haynes Lane Market. Haynes Lane off Westow Street. Clothes, books, jewellery, vinyl, CDs etc etc etc. Sundays and Fridays 11 am to 5 am; Saturdays 11 am to 6pm.
Jasper Road Antiques Market. Jasper Road. Not just antiques. Spread over four floors
There are also weekend markets in the former dairy in  Carberry Road (off Westow Street) and occasionally on Westow Street (Victory Place) to the right of the old post office.
---
SHOPPING – CHARITY SHOPS
Cancer Research 30 Westow Hill. Open seven days a week.
Enterprise Trust 18 Westow Street.
Living Water Satisfies. 68 Church Road. (art materials, second hand books) The charity counsels battered women. Also runs a community cafe on the corner of Westow Street and Haynes Lane.
Shelter 11 Westow Hill
---
……AND ALSO
SHOPPING
BRIDAL WEAR AND BABY ITEMS
Allbone and Trimit http://www.allboneandtrimit.co.uk bespoke wedding dress designer & maker. 4 Coopers Yard off Westow Street – the long slope down the left hand side of Iceland. Part of 'The Overspill' building. http://www.allboneandtrimit.co.uk
Love Bridal 57 Westow Street http://www.lovebridal.co.uk
Papagaio toys, games, baby gifts. now in their wonderfully colourful new home at 45 Westow Street having moved from Church Road http://www.papagioworld.com
BUSINESS BAGEL
BUSINESS BAGEL  in Crystal Palace is held  every 1st Wednesday of the month at 7.30am
New contacts are essential for businesses to evolve. The bagel helps people do just that.
MEET OTHER PROFESSIONAL BUSINESS OWNERS
WORK COLLABORATIVELY
MEMBERSHIP OPTIONS (Coming soon)
SHOWCASE YOUR SERVICES TO OTHER LOCAL COMPANIES
INFORMAL BUT PROFESSIONAL NETWORKING
GREAT HOME MADE HOT BREAKFASTS (details)
FREE ENTRY INTO OUR EXCLUSIVE ONLINE DIRECTORY
(Boosting your online presence and SEO)
Where: Brown & Green Café
99 Church Road, Crystal Palace SE19 2PR (corner of Belvedere Road)
Ticket prices include a hot breakfast of your choice
See website WWW.BUSINESSBAGEL.CO.UK for further details
CANDLES
The Milkhouse Candle Co 111 Church Road http://www.milkhousecandles.co.uk
CARPENTRY
Jake Dunn Designs 69 to 71 Church Road (the old tractor shop)
CHEMISTS
Sefgrove  3 to 5 Westow Hill 020 8670 5198
CLOTHES
Backstage 47 Westow Street – see also: hairdressers.
Crazy Man Crazy 18a Church Road
D-Solo's Mens and ladies clothing 23 Church Road
Shoufang Fashion. 60 Church Road. Saturdays and Sundays Midday to 5pm.
Simon Carter* 71 Westow Street http://www.simoncarter.net
Vien vintage clothing gifts and furniture 79 Church Road
Violet Betty's vintage inspired boutique 85 Church Road
Vintage Hart. Inside the White Hart pub on the corner of Church Road and Westow Street.
NOTE: Grand Bay (formerly at 23 Westow Street*) can now be found online: http://www.grandbayboutique.co.uk Facebook: Grandbay boutique
*sells mens socks
And more clothes stalls in Haynes Lane Market.
CYCLES
Blue Door Bicycles 5 and 7 Central Hill. This shop for many years was Talbot Cycles. bluedoorbicycles.com
Cadence, top of Anerley Hill (to the left of the Grape and Grain) http://www.cadenceperformance.com
DRY CLEANERS
Franklin Bell 77 Westow Hill
Palace Cleaners 101 Church Road
Top Quality 9 Westow Hill
FLOWERS/GARDENING
Doris 18-20 Crystal Palace Parade just to the right of the Westow House pub. http://www.dorisflorist.co.uk
The Secret Garden. Access via Coxwell Road off Westow Street. Hidden at the back of the Phoenix Centre and to the left of Sainsbury's. Just across from one of the entrances into Westow Park. http://www.thesecretgardencentre.com
FURNITURE
Do South 2 Westow Street has a mouthwatering display of wonderfully kooky items on the corner of Westow Street and Central Hill. http://www.do-south.com
Flaming Nora 40 Church Road (also does re-upholstery on the premises)
Lawrences at 2 Holly Bush Terrace, Westow Street between Westow Hill and Paddock Passage sells second hand furniture.
Vien (see clothes)
Second hand furniture can also be found in the Haynes Lane and Jasper Road markets and in several shops on Church Road where they occupy three out of a row of five shops opposite the side of the cinema building.
These are (from left) unnamed at 38, Cartwrights at 34 and Bambino at 28 to 32 .
GIFT SHOPS
Brave Girl Gifts 86a Westow Hill
Coconut Trading 73 – 75 Church Road http://www.coconuttrading.co.uk
Glitter and Twisted at 25 Westow Street (part of the Foresters Hall building with the big clock outside)
Smash Bang Wallop  40 Westow Street smashbangwallop.co.uk
South of the River 56 Westow Street http://www.southoftheriver.co.uk
HAIRDRESSERS 
2nd Glance hair and beauty salon. 113 Church Road. In parade to right of Belvedere Road
Backstage 47 Westow Street – see also: clothes
Special Hair Service 74 Westow Hill
Way Ahead 41 and 43 Westow Street
Willie Smarts 1 Westow Hill at corner of Westow Hill and Gipsy Hill
HARDWARE
Hollybush Stores 24 to 28 Westow Street
Macdonalds  57 Westow Hill (corner of Woodland Road). Not the burger bar. If you can't find it anywhere else on the Triangle then Macdonalds is the only place likely to have it. And if they haven't you're looking at a trip into Penge or Bromley.
HEALTH AND BEAUTY / NAIL CARE
Beauty by Renata and Dagmara 77 Church Road
Belle Vous spa and salon 64 Church Road
Crystal Nails professional nail care and waxing 40 Westow Hill
Glamour 7 Concepts beauty and medi spa 42 Westow Street
Hayleys Nails  81 Church Road
Lash Lounge 22 Church Road
Mother Earth health and beauty salon 42 Westow Street
Nature Palace 10 Church Road. Acupuncture, massage, herbals.
North Wood Clinic 36 Westow Street
Revitalize beauty salon 14 Church Road
Training Points personal training studio 5-6 Cooper's Yard off Westow Hill (side of Iceland)
Your Style – hair, beauty and nails aka Studio Fryzjersko Kosmetyczne 75 Westow Hill http://www.your-style.co
HEALTH SHOPS
Planta 32 Westow Hill http://www.planta.co.uk
INTERNET CAFES
Chimeby Links at 89 Church Road Open from 10 am Monday to Saturday. Late Monday to Friday but shuts 4pm Saturdays.
Link Telecom at 4 Westow Hill (open seven days a week from 8 am)
Roast Bean cafe 23 Westow Street and
Upper Norwood Joint Library: Internet access but you do need to be a library member to use the machines.
JEWELLERY
Crystal Palace jewellers. 76 Church Road. Wedding rings to order.
Haynes Lane Market. Second-hand  jewellery can be found on other units there.
KEY CUTTING
Topy 38 Westow Hill
LAUNDERETTES
One just off the Triangle at 9 Central Hill. There's another on Anerley Hill close to its junction with Hamlet Road which is nearer to the National Sports Centre, another on the parade at the top of South Norwood Hill at the far end of Church Road.
MEETING PLACES / ROOMS FOR HIRE
Antenna Studios, top of Bedwardine Road
Phoenix community centre, Westow Street (to left of Sainsbury's)
Salvation Army centre, Westow Street
Upper Norwood library, Westow Hill
MINICABS
The Keen Group Crystal Palace Parade
NOTICEBOARDS
Crystal Palace is a vibrant area with lots going on – far too much for us to include and update weekly! Noticeboards for up and coming events cam be found outside Sainsbury's on Westow Street, across the road in Papagaio's (23) and the Venezuelan restaurant Mi Coluna es Tuya (61).
The Sparrowhawk pub on the corner of  Westow Street and Westow Hill has a lot of events – many of them arts-related) in their window.  There's also a noticeboard in the foyer of Upper Norwood joint library on Westow Hill. For kids: There's a noticeboard in the children's library at the back on the ground floor. The noticeboard faces the back wall.
OPTICIANS
Crystal Eye Centre 20 Westow Hill
PAINT
Hollybush Stores Westow Street
Rafael Gabriel 36 Church Road
POLICE
The Crystal Palace area sits in, and on, the edge of five London boroughs. In an emergency dial 999. In a non-emergency dial 101.
There are several Safer Neighbourhood Teams (SNT) for this area covering Crystal Palace Triangle; Crystal Palace; Gipsy Hill;  South Norwood, College (the Southwark part of Crystal Palace) and Sydenham. Accessible via Metropolitan Police website.
POST OFFICE
Loco,  55 Westow Street. On some days prepare to queue….and queue….and queue.
POUND SHOPS
Poundland Westow Street (to right of Sainsbury's)
Poundstretcher (former Woolworth's building) halfway along Westow Hill where the zebra crossing is.
SEWING/ DRESSMAKING
Fancy Moon 85 Church Road. Open Wednesdays to Mondays (closed Tuesdays). Also has pattern cutting, patchwork, quilting, knitting. http://www.fancymoon.co.uk
SHOES
Merlin Shoes 44 Westow Street  (corner of Haynes Lane and opposite Grand Bay)
SHOE REPAIRS
Topy 38 Westow Hill
SORTING OFFICE
On Westow Street between Hollybush Stores and the Enterprise Trust charity shop. There's a red pillar box outside. Entrance on the left hand side down a flight of steps.
SPORT AND RECREATION
SWIMMING at the National Sports Centre which sits in the middle of Crystal Palace park. One pool which some may find too big for a leisurely swim.
Nearest other pools West Norwood and Beckenham.
STUDIOS
ANTENNA STUDIOS
Bowyers Yard, Haynes Lane, Crystal Palace, SE19 3AN,
0208 653 5200

Recording/rehearsal studios. Three music practice and recording rooms, two pianos, dance studio, classes…and Cafe Thing. www.antennastudios.co.uk
UPHOLSTERY
Re-upholstery on the premises at Flaming Nora 40 Church Road
VINYL
Second hand 45s LPs and the occasional 78 can be found at:
Bambino Church Road (basement)
Haynes Lane Market (upstairs and, downstairs:  front and back)
YOGHURT DRINKS
YoguSensi 93 Church Road
---
……and now the bad bits
There's only one set of public loos. These are behind the Phoenix Centre on Westow Street which stands to the left of Sainsbury's and are open 7 am to 7pm – when they haven't been closed because of vandalism.  Best avoided?  Some pubs and restaurants will let you use their facilities if you ask. (Please remember to say 'Please')
Cycling on pavements. Because of the one-way system many cyclists travel on the pavement going against the traffic. So much for getting fit. And healthy. (Cycles are also an ideal way of stealing people's mobile phones.) July 2014: Police announce that cyclists now face on-the-spot £50 fines for cycling on the pavements.
Chewing gum on pavements.
Parking – or rather the lack of it. There are 46 public car parking spaces around the Triangle. The former public car park behind Sainsbury's has morphed into being part of Sainsbury's – seemingly without anyone being told about it. Maximum stay outside  or inside is now only three hours with the threat of a £70 fine for overstayers – and other transgressions.
Street drinkers (also found in Westow Park);  beggars outside Sainsbury's claiming to be homeless. Problem with street drinkers nowhere near as bad as it was thanks to the efforts of local police.
*During the Olympics the Great Britain womens handball team stayed in the Crystal Palace area. The ladies hoped to make the quarter-finals but unfortunately failed to make the knockout stages.
Handball – which is hugely popular in other European countries – received £2.9m from UK Sport in the build-up to London 2012 but afterwards lost its ENTIRE funding towards Rio 2016.
Athletes now have to find sponsorship or pay their own expenses if they want to make it to Rio………