LAMBETH LABOUR COUNCILLORS APPLAUD PROTESTERS AT COUNCIL MEETING (No – you're not dreaming)
 
At  Lambeth council's January meeting:
A petition with over 255 signatures was received from Cllr Jane Edbrooke, campaigning to save the Kennington Park estate community centre from demolition planned by Hyde Housing Association.
A petition with 2116 signatures was also received from Cllr Alex 'Catman' Bigham, campaigning to stop Hyde Housing Association from leasing the Stockwell community centre to another group without guaranteeing that the centre would remain open and continue to provide the same services to local residents.
The council were then addressed on behalf of tenants and leaseholders of Hyde Southbank Homes (HSH) by Marilyn Evers who presented a deputation relating to the Stockwell and Kennington Community Centres.
After she addressed the council the following occurred: Marilyn Evers found herself being APPLAUDED by councillors.
And, as the official council minutes go on to say:
"The cabinet member for housing, Cllr Matthew Bennett, thanked those in attendance and congratulated residents on their high profile campaign which had been well supported by ward councillors."
(Cllr Matthew Bennett congratulated residents on their high profile campaign……Campaign well supported by Lambeth ward councilors. SHOCKHORRORPROBE – Ed.)
The official minutes continue: "Cllr Bennett had spoken with Cllr Bigham on the issue already but announced that a further meeting would be held with councillors, officers and the Legal team to establish how the council could best support HSH residents.
"The leader of the council, Cllr Lib Peck, would also meet with a senior director of Hyde Housing Association in due course."
CARNEGIE LIBRARY – WHO GETS TO RUN IT?
 
Which group gets to run Carnegie library at Herne Hill?
On the one hand you have the secret Carnegie Community Trust made up of just five people, two of whom are former Lambeth Labour councilors and a third is the life partner of former Lambeth council leader Steve Whaley (also Labour).
On the other is the Carnegie Library Association,  which is run by an elected committee of trustees, including representatives of library user groups and of the Friends of Carnegie Library.
Cllr Jane Edbrooke, when she was the cabinet member for culture, made it abundantly clear which side she would prefer to be dealing with.(See: "WE WILL WORK WITH OUR LABOUR CHUMS" – EDBROOKE November 17, 2015 on this website.
In the wake of the Lambeth council planning committee which gave Greenwich Leisure the go-ahead to build a gym in the library, Herne Hill ward Cllr Jim Dickson told Brixton Blog (February 8th) a decision could be reached within six to eight weeks.
Brixton Blog reported: "Dickson said he regretted that there had not been a united single bid. "The council's decision on which group will be chosen, taken with the help of an independent assessor, is expected in six to eight weeks.
"Dickson said he hoped the community would unite around whichever group was chosen."
Cllr Dickson refers to an independent assessor, Lambeth council have previously referred to independent assessors.
If Cllr Edbrooke's chums get the green light another judicial review involving Lambeth could be on the cards.
MEETING PLACES
 
The venue to consider Greenwich Leisure's application for Carnegie library Herne Hill – the only item for decision on the agenda –  was the Bolney meadow community centre in Vauxhall. The nearest main road has only one daytime bus route on it.
(This was also the same venue planned for the decision to demolish Central Hill estate in Crystal Palace which is now due to be 'discussed' in March.)
The venue for the overview and scrutiny committee which considered the planned demolition of the Cressingham Gardens estate in Tulse Hill – the only item for decision on the agenda – was a health centre eight to 10 minutes walk from Stockwell tube station.
Why do Lambeth council persist in selecting difficult to get to locations on controversial matters?
CLLR DICKSON MOVES BACK TO LAMBETH
 
Cllr Jim Dickson has moved back into Lambeth from Southwark after two years.  An email dated February 17th 2017 announces the move, which News From Crystal Palace understands is to his previous Lambeth address.
But both addresses have been redacted. News From Crystal Palace understands this was at Cllr Dickson's request and with the borough solicitor's approval.
The register of members interests at Lambeth has details on the redacted email.
Further reading: LAMBETH LABOUR COUNCILLOR MOVES TO SOUTHWARK (but only for 12 months) July 07, 2016 on this website.
IT'S NOT JUST IN LAMBETH
 
News From Crystal Palace liked this official-looking document about council plans to close the library in Bath, taken from Twitter comments on Defend the Ten's website. Initial appearances can be deceptive – but spot the similarities between Bath and Lambeth…….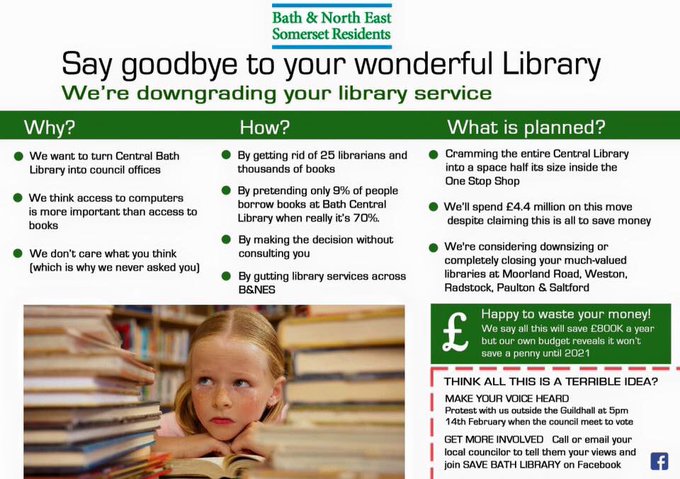 AND FINALLY – LIBRARY NEWS FROM LABOUR-CONTROLLED SOUTHWARK WHICH APPARENTLY CAN AFFORD TO RUN A PROPER LIBRARY SERVICE……
 
East Street Library building set to get revamp
Plans are afoot to spruce up the building currently home to the East Street Library as part of a 'wish list' drawn up by local people.
Southwark council has announced it will be using £300,000 from the GLA to make some improvements to the building including new lighting, better signage and a new 'enterprise pod' extension to the side.
This will both improve the current library service and prepare the building for a new lease of life serving the local community when the library service moves to a brand new building on the Aylesbury estate in late 2020. The idea and driver for the project came from the local community during the What Walworth Wants consultation in 2016.
Cllr Johnson Situ, Southwark's cabinet Member for business, culture and social regeneration, said: "The current library building is very well used, but one of the main things that came out of our conversations with local groups like Latin Elephant was the lack of meeting space in the area.
"The revamp will help tide the current library service over until its new and improved home on the Aylesbury estate is ready, and means the building will be ready to offer the Old Kent Road a new service as an affordable and flexible business and meeting space for local people in this key area."
A drop-in session was being held at the library last week for local people to get involved in the revamp.
The library will remain open during the work, which is expected to start in August 2017 and take two to three months. (Source: Southwark council press release)