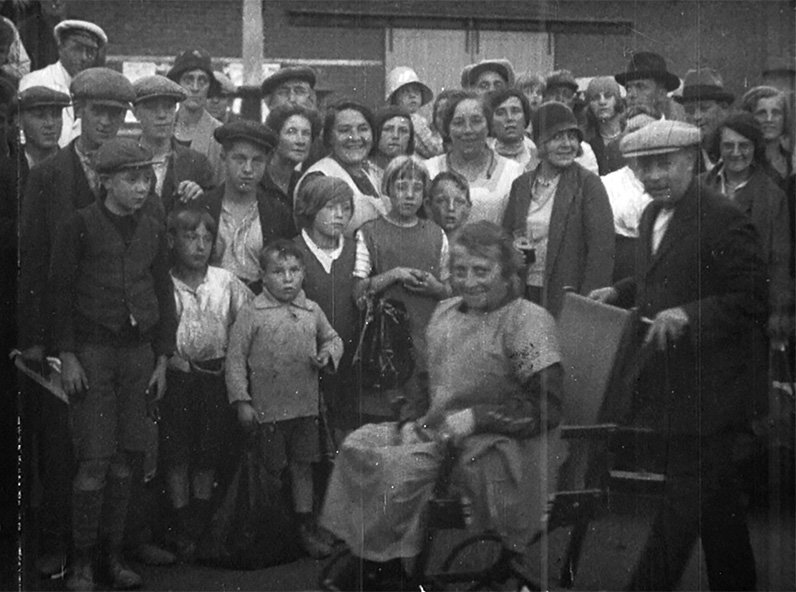 1930'S PUBLIC HEALTH FILM MADE AFTER BERMONDSEY COUNCIL GOT 'OPPIN MAD 
Southwark council's local history library is airing a public health film that has not been seen since the 1930s.
The film, 'Oppin, focuses on the interwar period, when most of the country's beer hops were grown in Kent.
At harvest time people from Peckham and Bermonsey would flock to Kent to work as hop pickers. Sadly, the living conditions, hoppers huts, were very poor and they would often return home sick.
The then Bermondsey council was concerned that their residents were returning from these annual hop picking trips in poor health. Having recently harnessed the power of public information films, and in line with health propaganda, they produced 'Oppin.
The film shows what hops are, how they are picked and how they end up in beer. It also shows what life was like for the pickers, and offers tips about how they could stay in good health.
The 35mm black and white film was recently digitised, and is now available for public to view at the Southwark local history library, 211 Borough High St, London SE1 1JA.
Cllr Johnson Situ, Southwark's cabinet member for business, culture and social regeneration, said: "It is remarkable that our libraries team have kept this gem of film safe for all these years.
"It's a real insight into life in the borough 80 years ago, where I am happy to learn the local council was as invested in finding progressive ways to promote public health as we are today." (Source: Southwark council press release)
DULWICH PICTURE GALLERY- WHAT'S ON NOVEMBER 2017
Exhibitions and Displays
Tove Jansson
The first UK retrospective of one of the most celebrated illustrators of the 20th century, Tove Jansson (1914–2001). Known internationally as the creator of the Moomin characters and books, Jansson's broader output of graphic illustrations and paintings are relatively unseen outside her home country of Finland.
25 October 2017 – 28 January 2018
The Private Made Public: Jacopo Bassano, The Adoration of Kings
Usually accessible by appointment only at Burghley House in Lincolnshire, this dazzling renaissance treasure will be given the spotlight in Dulwich for a new London audience.
10 Oct 2017 – 21 Jan 2018
Download high-res images
Special Events
Gallery Lates
6–10pm, £12 Standard,10 Concessions and Friends
Every month we're bringing you specially themed Friday Lates that offer the chance to experience the Gallery in an entirely unique way. Start your weekend with exclusive after-hours access to exhibitions, performances, music, workshops and talks – all with a drink in-hand.
Death: A Portrait
3 Nov
Whether it's the Mausoleum where the founders of the Gallery are buried or commemorative portraits, join us to explore our complex and contradictory attitudes to this emotive subject. Expect everything from talks and tours to death cafés, memento mori workshops and macabre salons.
Download high-res images
Lectures & Talks
Dulwich Literary Festival Presents Ali Smith
10 Nov, 7.30pm, £25, £20 Friends
Join us for a very special evening with novelist Ali Smith, who will be discussing how she has been inspired by the art and writing of Tove Jansson and reading from her new book, Winter.
________________________________
Contextual Lecture Series: Continental Culture: The Road to Europe
All lectures, Tuesday mornings 10.30 – 11.30am, £12, £10 Friends
Throughout this series, we examine facets of European development, social and political unrest and the remapping of a continent.
Professor Thomas Dixon
Rage and Revolution: the History of Anger in Europe
14 Nov
This talk examines a wide range of historical examples of political anger from the French Revolution to Brexit.
Professor Peter Atkins
Science since 1817: Attitudes and Achievements
21 Nov
This lecture will discuss how science flourished in the 19th century and came into bloom in the 20th, having a profound impact on mankind's attitude.
Derek Taylor
Who do the English think they are?
28 Nov
Look back through history and discover why the English have sometimes been eccentric, snobbish and arrogant, and at other times respecters of democracy, stability and the rule of law.
________________________________
InSight Lecture Series: Book Illustration: Enriching the Story
10.30-11.30am, Series of 3 £32, £26 Friends. Single lecture £12, £10 Friends
This series explores the way in which some of the finest artists have used illustration to explain, enhance, embellish and add meaning to texts.
The Golden Age of Children's Book Illustration
8 Nov
This talk looks at how picture books of Walter Crane, Randolph Caldecott and Kate Greenway revolutionised children's publishing, tracing this practice back to the work of Cruikshank, who influenced many great illustrators.
The Art of the Bible: Illuminated Manuscripts from the British Library
15 Nov
For two millennia the Bible has inspired the creation of art. This lecture will explore a selection of illuminated manuscripts from the treasures of the British Library.
Embellishing and Meaning-Making: Literary Illustration in the Long 18th Century
22 Nov
This talk explores how printed images supported the establishment of the English literary canon.
________________________________
InTown Lecture Series
7 for 7.30pm, £12, Friends £10
A series of lectures about major exhibitions in other London galleries
Spanish Masterpieces from the Bowes Museum at the Wallace Collection
9 Nov
Dr Xavier Bray, Director of the Wallace Collection, will describe some of the prize pieces within this superb collection of painting, sculpture and decorative art.
________________________________
Tuesday Evening Lecture Series: Immigrant Artists
7.00 for 7.30pm, £12, £10 Friends
This series of lectures discusses the way in which foreign artists came to influence the work of art in Britain, their British contemporaries and later generations.
Holbein
7 Nov
The work of Hans Holbein the Younger had a tremendous impact on British portraiture, and his depictions of the court of Henry VIII have coloured our view of the period.
Johann Zoffany: Citizen of Nowhere?
14 Nov
This talk looks at the work of German-born Zoffany, an insatiable adventurer who documented the mores of Indian rulers and British royalty with the same keen eye for detail.
David Bomberg: The Lost Artist of the British Avant-Garde
21 Nov
Bomberg was one of the most talented artists associated with The Vorticist movement. This talk examines how his work continues to exert influence on some of the most important British painters working today.
Gallery Film
Each sociable evening includes a complimentary glass of wine, snacks and film notes. Bar opens at 7.00pm. Screenings at 7.30pm. Linbury Room. £9; £7 Friends
Sunday Bloody Sunday
13 Nov
Early Years
Mini Masterpieces: Tove Jansson and the World of the Moomins
7 & 23 Nov
10am – 11am and 11.30am – 12.30pm
£12 per adult & child
Experience the delights of our Collection with your child aged 6-24 months. Enjoy an informal, child-friendly gallery visit followed by a hands-on, sensory art session tailored for you and your baby. We are thrilled to announce that we will be running Tove Jansson themed sessions for the month of November! Explore the world of the Moomins in these very special sessions.
Early Introductions: Tove Jansson
17 Nov, 8.30 – 10am, Adults standard exhibition entry charge, children FREE
Gain exclusive access to Tove Jansson (1914–2001) with your little ones! Buggies, roaming toddlers and excited squeals encouraged. Enjoy a flower garland-making activity and a Moomin playhouse in this relaxed, family-friendly viewing.
Family Events
Art Sundays
2-4pm, £3 per child, Suggested ages: 3yrs+
Sunday is art day! Join us every week for our drop-in workshops and make something special to take home. This November we will be making bonfire night banners, creature collages, and welcoming illustrator Ros Asquith to the gallery!
________________________________
Puppet Show
12 Nov, 10.30am & 1.30pm, £5 per person; babies under one year FREE
Drew Colby will conjure up magical images and stories, making brilliant puppets to delight children of all ages.
Adult Workshops & Courses
Tove Jansson: Passion for Painting
Five Thursdays from 9 Nov – 7 Dec, 6.30pm – 8.30pm, £130, £125 Friends
This course will explore Jansson's imaginative approach to landscapes. You will create your own work in a variety of media, and develop your unique response to place.
Finnish Christmas Crafting
Three Sundays from 19 Nov – 3 Dec, 10am – 1pm, £30 per session, or £85 for all three
Explore a different craft each session. From himmeli decorations to Finnish crochet (beginners welcome!) and traditional tähdet stars. Tea and biscuits will be provided while you spend a peaceful morning creating treats for yourself or someone else. Get crafty at one session or all three!
After School Workshops
Make a Mega Book (7-10yrs)
Five Tuesdays from 7 Nov – 5 Dec, 4.30pm – 6pm, £75
Inspired by Tove Jansson's Moomin stories we will create our own! After an initial session spent deciding on plots, characters and locations, each member of the group will choose a different scene to illustrate. These scenes will be brought together to form a book which everyone will be able to take home.
Autobio-graphical Novels (11-14yrs)
Five Wednesdays from 1 – 29 Nov, 4.30pm – 6pm, £75
Explore how real life influenced the parallel universe Tove Jansson created in Moominvalley and create your own graphic novel, featuring people and experiences from your life.
Drawing the Undrawable (15-18yrs)
25 Nov, 10am – 4pm, £130, £65
Take part in an experimental workshop exploring how to draw things that are not normally or easily represented. Create a portfolio of subjects inspired by Tove Jansson, who mastered the "undrawable": imagined worlds, risky political propaganda, and her love for her partner Tuulikki.
Off The Wall
Discuss, debate and have your say!
Meet new people, work with a professional artist and engage in lively discussion as you challenge the role of galleries for young people today. Working in the Gallery you will explore univeral themes such as love, power, beauty and equality, using our Permanent Collection and temporary exhibitions as your stimuli.
Saturday 11 Nov, 2 – 4pm. Free
To book your place contact creatives@dulwichpicturegallery.org.uk
Download Listings Sheet here
You can book tickets for all forthcoming events online at http://www.dulwichpicturegallery.org.uk (Source: Dulwich picture gallery)
LAMBETH LIBRARIES – CHILDRENS PROGRAMME
Hands on Our Instruments
Wednesday 25 October, 2.30pm to 3.30pm. West Norwood Library. Ages 5 years and above. Booking essential
A workshop by Nzinga Dance at which children will learn all about African drums and accompanying instruments and where they are from. They'll learn what they are made of, why we drum, and which drums are used in which celebrations and dances. A lively an interactive workshop where participants will be able to play drums and instruments available.
Freshwater Theatre: Black History a celebration
Wednesday 25 October, 2.30pm to 3.30pm. Streatham Library. Ages 6 years and above
Celebrate Black History Month with this specially created large group session. Children will discover facts and stories about the abolition of slavery and the Windrush generation. They will also encounter some unsung heroes from Black History.
Women of Black History: Creative Writing with Explore Learning
Thursday 26 October 10am to 11am. Tate South Lambeth Library
Thursday 26 October, 12 Noon to 1pm. Brixton Library
Ages 8 to 11 years. You are a journalist and have been assigned to write an article on women who have made a positive contribution either historically or present day. Learn the tricks of the trade to writing a piece for a newspaper or magazine.
Ahoy Pirate Creative Writing Workshop
Thursday 26 October, 2pm. Clapham Library
Ages 8 to 11 years. Put yourself in the shoes of Jack Sparrow and experience life as a pirate! Concentrating on diaries and creative writing, be inspired by the nautical world but be careful not to walk the plank!
A Carnival of Stories
Friday 27 October, 10.30am to 11.30am. Upper Norwood Library
Friday 27 October, 2.30pm to 3.30pm. Durning Library
Ages 3 to 6 years
A treasure hunt of stories celebrating Black History Month; a sensory journey beginning in England in 'Amazing Grace', then onto Kenya in 'Handa's Surprise' and finally to the Caribbean in 'Island Counting', with interactive activities based around the three stories.
Hands on Our Costumes
Friday 27 October, 2.30pm to 3.30pm. Tate South Lambeth Library
Ages 5 to 11 years – Booking essential
Participants will learn about traditional African cloth, costumes and accessories and what is worn for special dances and celebrations. You will also learn about the meaning of dances followed by a short dance workshop.
Celebrating Diversity
Friday 27 October. Afternoon events 2pm to 5.30pm, Panel discussion 6pm to 7.30pm. Clapham Library
Afternoon of storytelling and interactive workshops celebrating the world of children's books, including:
Author Talk and workshop with a special guest: Sonya J. Bowser American author Sonya J. Bowser visits Lambeth Libraries during Black
History Month introducing her books The Adventures of Zolie Zi. Zolie Zi is the main character and narrator in this realistic and comical series of children's books.
Book stall with author signing: An opportunity to purchase books by many authors and get them signed on the day.
Panel Discussion: Are you a children's author or wanting to write diverse literature for children? Why not join in our panel discussion.
The Adventures of Zolie Zi with author Sonya J. Bowser
Saturday 28 October, 2.30pm. West Norwood Library