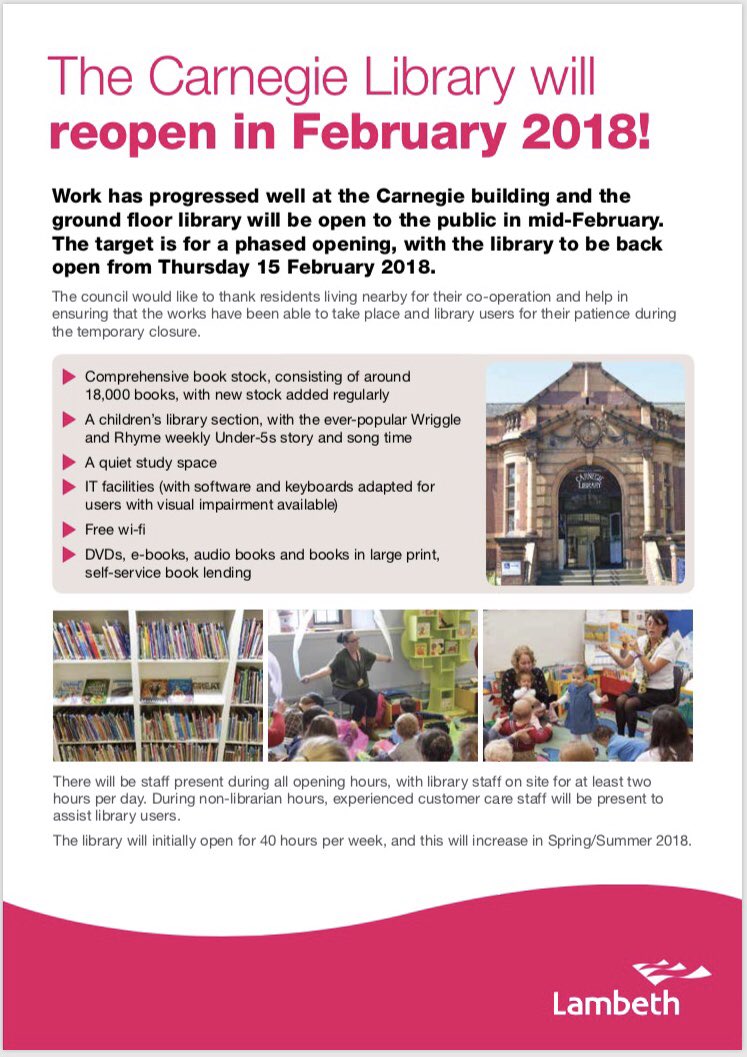 This leaflet from Lambeth council is being sent to people living near to Carnegie library Herne Hill.
The leaflet – produced after Lambeth turned down an appeal by the Carnegie Library Association to take over the running of the library –  says: There will be "Experienced customer care staff" instead of librarians who will be there for just two hours a day.
The back of the leaflet says Greenwich Leisure will be providing the staff – but whether that is at their expense or Lambeth's ratepayers is not yet clear.
The back of the leaflet also says there will always be staff present in the library area who are DBS (Disclosure and Barring Service)* checked.
On Lambeth council's 'Frequently Asked Questions" libraries website it states:
"Greenwich Leisure will provide customer care staff in the library when librarians are not present. "GLL have experience of running libraries in other boroughs and their ground floor staff will be able to monitor the library area."
One library campaigner on seeing this leaflet commented: "I am baffled to see Lambeth thanking library users for their patience during the temporary closure!
"It is as the occupation and street-filling demonstrations had been an irrelevance not worth noting and in no way impacting upon Lambeth's good relations with the local public.
"Who are these patient and co-operative residents and library users?  "What world is this council living in?"
Another said: "It all sounds so reasonable and lovely and friendly on Planet Lambeth; library back, fully-staffed by GLL customer services, patient and co-operative residents jolly happy, temporary closure slight inconvenience.
"First evidence of that expensive communications deal – they bought a massive rug to sweep everything under.
"Incidentally, on the day of the Carnegie garden tree-felling last week there was a separate incident. "Neighbour with small children directly opposite, at the end of her tether with the racket, went over to ask scaffolders to be quiet. "The incident ended with police being called.
"Unbelievably, Forcia (the company digging out the library basement which will house an unwanted gym – Ed.) said the roof work was nothing to do with them, so the scaffolding trucks at 8.30am all week and noisy work was down to Lambeth and not covered by any discussions with residents on parking or noise. "Very joined-up thinking!"
And Friends of Carnegie Library, responding to as Tweet by Herne Hill ward Cllr Jim Dickson, Tweeted: "Lies, half-truths, misrepresentation, obfuscation. "We will circulate correction."
Cllr Dickson had Tweeted: 
Jim Dickson
 @JimDicksLambeth "Delighted
@
lambeth_council
is sharing the news with Herne Hill people
@
CarnegieLib
will re-open on 15th Feb; fully staffed, complete bookstock, children's section, IT/Wifi, study space, space for community & study groups & with longer opening hrs from the summer
#
securefuture"
The back of the leaflet says "We still recommend that children under the age of 12 are not left unaccompanied in public places and children under (the age of) eight must always be accompanied in all our libraries.