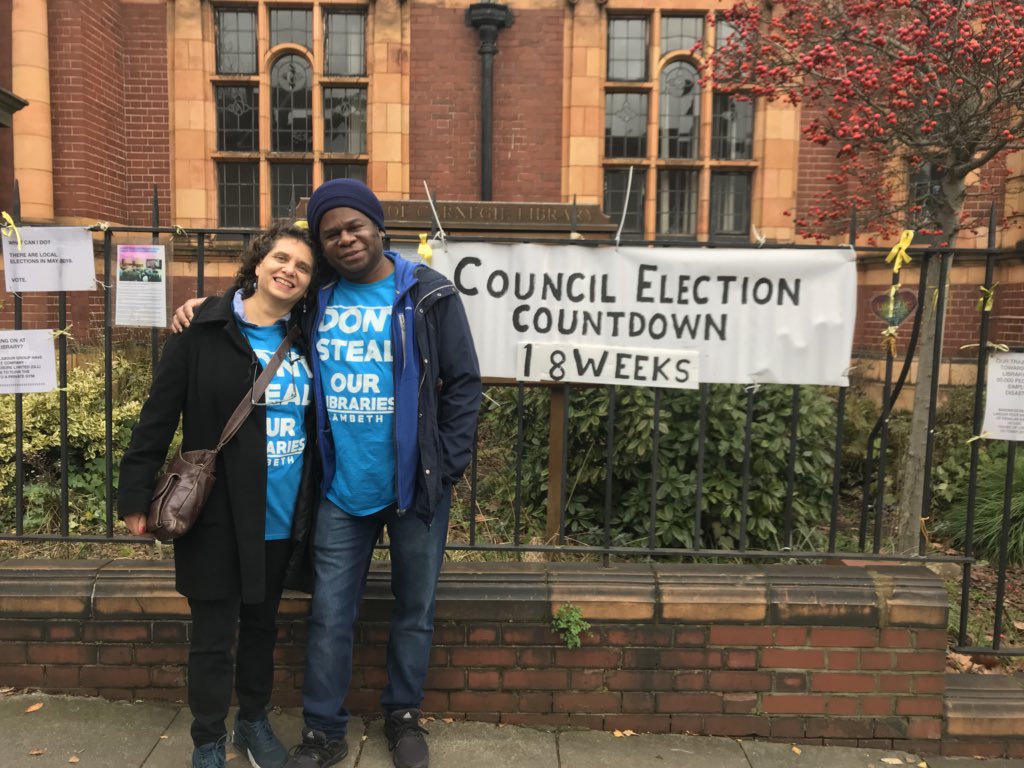 Defend The Ten‏ @defendtheten Dec 24 EIGHTEEN WEEKS TO GO….(Or: It was Christmas Evening, outside the library…..)
On Christmas Eve and with 18 weeks left till the local elections we meet Louise & Steve Martin. Louise (a trained librarian who worked in bibliographic services @CarnegieLib) says "the library has been the centre of our lives since moving to the area 22 years ago"
Steve loves Christmas but is sad to see the library in its current sorry state. He wishes a Merry Christmas to "all the ghosts in the library, we won't forget all the happiness past, it will spur us on to fight for a happier future for a real library…
"…especially hard for the local kids. It's not just about the books, it's about a sense of community. We always knew someone there. It's left a void in our lives & it hurts"
Both were involved in the first campaign to save the library in 1999, as well as the most recent campaign. Louise thinks the very expensive closure is pointless: "the local combo of Ruskin Park & Carnegie Library has been broken…
Their daughter spent many happy hours at the library 's chess club, a further loss to their family now it is gone.
Steve secured a life-changing book deal after meeting a publishing executive at the library. Writing as S. I. Martin, he has now published  two childrens books. Having recently concentrated on historical research, he hopes to publish more children's literature in the future and is a keynote speaker at children's literature conferences.
Defend The Ten Retweeted Jason_Cobb
Before it was shut, @CarnegieLib cost £125k p/a to run. Lambeth has now spent or pledged £1.5m+ on disastrous construction work, security guards and a four-year rent holiday for @GLL_UK, apparently to 'secure its future' . If they wanted to do that, they should've left it alone.