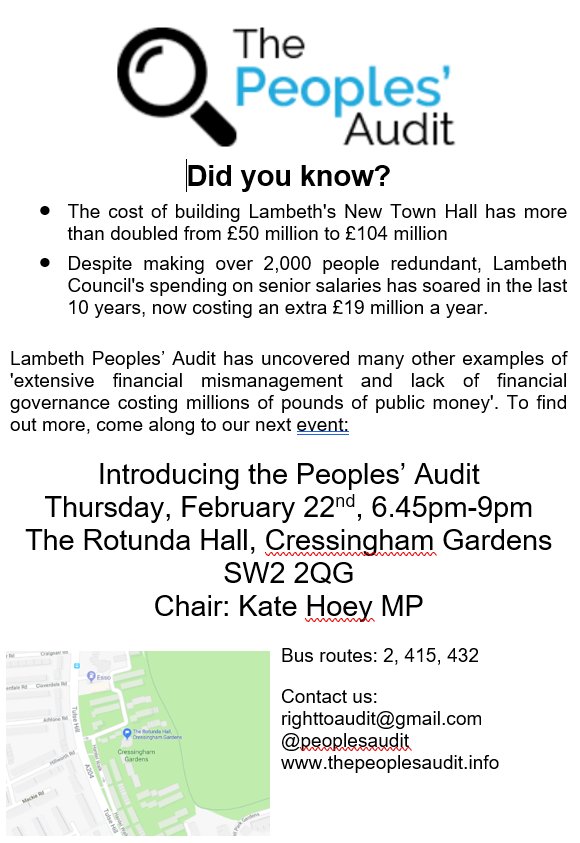 LAMBETHWATCH: QUESTIONS NEWS FROM CRYSTAL PALACE WOULD LIKE LABOUR COUNCILLORS TO ASK IN LAMBETH COUNCIL MEETINGS (but they won't) – Part Two
FAKE NEWS FROM LAMBETH
To: Cllr Lib Peck, leader of Lambeth council
Has she seen the story on the News From Crystal Palace website dated February 5th this year and headlined: EXCLUSIVE: LAMBETH COUNCIL'S 'NO NEED FOR BALLOTS CLAIM' EXPOSED AS BALDERDASH BY NEWS FROM CRYSTAL PALACE – Funding given by Greater London Authority for three estates was NOT for demolition – and GLA have not given any money for two other estates under threat.
The story says that: "Lambeth council's claims that they do not need to ballot people living on five estates they want to demolish because they already have funding from the Greater London Authority to demolish them do not stand up to even MINOR scrutiny.
"Investigations by News From Crystal Palace show that the GLA DID give Lambeth council £10 million for three of the estates –  Knight's Walk, South Lambeth and Westbury estates – but that was to be spent on obtaining vacant possession on those sites.
"News From Crystal Palace can find NO evidence (via Google) of ANY GLA funding involving Cressingham Gardens or Fenwick estates."
But an official press release on our Love Lambeth website states: Three estates in Lambeth (Knight's Walk, South Lambeth and Westbury) have had detailed planning applications submitted in December, each demonstrating the council's commitment to providing tenants a new home at council level rents…..
Two further schemes in receipt of GLA funding, Fenwick and Cressingham Gardens, were approved by Cabinet almost two years ago ……..
Our press release then states: "The council has met all of the principles laid out by the Mayor's guide for these five estates and the proposed new funding condition will not be applied retrospectively."
Please could the leader inform us who was responsible for authorising the publication of that press release headed Statement on the Mayor's 'Good Practice Guide to Estate Regeneration' and dated February 2, 2018 which made these false claims?
If this was approved by any council officer or councillor before publication please could she state who and when and, more importantly, why?
Secondly, the same press release states that, in regard to Central Hill which is the sixth estate that Lambeth Labour councilors want to demolish:
"On one further scheme (Central Hill), agreed at Cabinet last March and not subject currently to GLA funding, the council held a consultation run by an independent company based on the Mayor's principles which found that a clear majority of residents in favour of rebuilding.  "The council will respond to the Mayor's consultation on the transitional arrangements around the new funding condition to require resident ballots and will work with residents to understand the implications."
Please could she translate this into plain English?
Further reading: LAMBETHWATCH: QUESTIONS NEWS FROM CRYSTAL PALACE WOULD LIKE LABOUR COUNCILLORS TO ASK IN LAMBETH COUNCIL MEETINGS (but they won't) January 3, 2018 LambethWatch