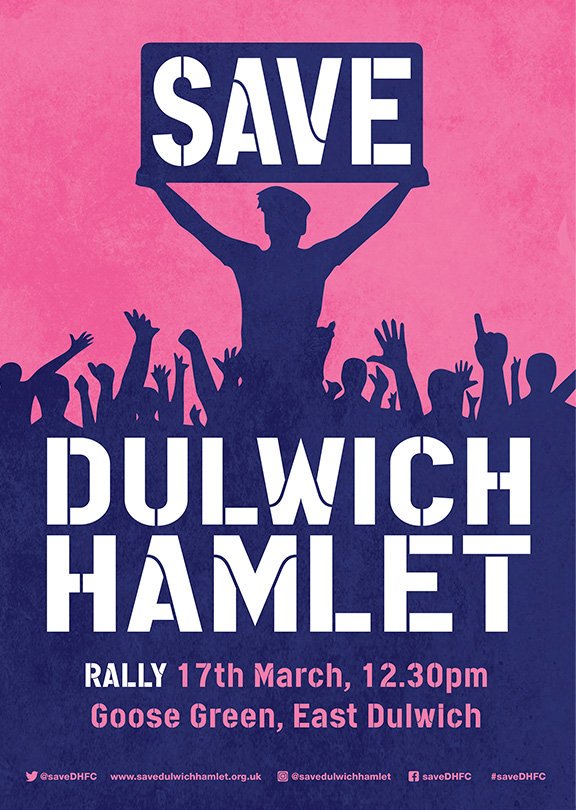 On Saturday, @saveDHFC have organised a Rally, March and Celebration of Dulwich Hamlet. Speakers including @helenhayes_, @LordRoyKennedy and @LiamDHFC begin at 12:30pm on Goose Green, opposite @edtse22.
Dulwich and West Norwood MP Helen Hayes is raising the plight of Dulwich Hamlet FC in the House of Commons this afternoon (Friday).
Readers with Freeview can watch the half-hour adjournment debate, which starts at 2.30pm, on the Parliament channel.
On March 12 Helen Hayes posted on Twitter:
Along with many thousands of Dulwich Hamlet Football Club fans, I am very concerned at the news last week that the club has been locked out of its ground at Champion Hill by its landlord Meadow Residential LLP, who have also taken legal action to try to prevent the club from using its name and initials.
Dulwich Hamlet FC has a proud 125 year history, and is valued by our local community for the friendly family atmosphere in which we are able to enjoy watching football, for its role in training talented young footballers and for its commitment to support a wide range of charitable causes.
Southwark Council approves plans to acquire Champion Hill site including Dulwich Hamlet FC grounds
Southwark council have issued the following press release (March 14th): 
Southwark council's cabinet have approved plans to acquire the site at Champion Hill in East Dulwich where non-league football team Dulwich Hamlet have traditionally played their home games.
The council plans to build council homes on land adjoining the stadium whilst at the same time securing the future of the club which has been evicted by the current owners. Following the eviction the club is temporarily playing at competitors Tooting and Mitcham United's ground, 8 miles from Dulwich.
Cllr Peter John, Leader of Southwark Council, said: "This decision is about delivering much-needed housing in Southwark and it is also about securing the future of Dulwich Hamlet Football Club which we all feel passionate about.
"The club is hugely important to the local community, with thousands coming out in support every week, and that is why the council wants to make sure that they can return to their rightful home, where they have played for the last 125 years."
Thomas Cullen, DHFC spokesperson, said: "We couldn't ask for more from Southwark council. "It's been an incredibly difficult time for the club and our fans, and to have the support of the council gives us some hope things can be resolved."
The decision approves the acquisition of land at the Champion Hill stadium site, Edgar Kail Way for housing delivery, and safeguards the football ground for continued use by Dulwich Hamlet Football Club. The cabinet authorised the council's Director of Regeneration to enter into negotiations to purchase the site. (Source: Southwark council press release)