LAUNCH OF NORWOOD SOCIETY'S 'MYHOUSEMYSTREET' PROJECT THIS SUNDAY
The Norwood Society are holding the first meeting of their 'MyHouseMyStreet' project upstairs in the Upper Norwood library this Sunday from 2pm to 4pm.
They are working with volunteers to launch the project in the Harold Road Conservation area of Upper Norwood to include Essex Grove, Rockmount Road, Vermont Road, Highview Road, Harold Road, South Vale, Gatestone Road and Bedwardine Road.  
The Project aims to establish a database from census records, street and trade directories on the history of streets in the Conservation area, to write street histories using the headings – introduction, development, architecture and materials, conservation area, residents, events, education/schools, conclusion.
The aim of the meeting will be to draw up a plan of action based on the interests and skills of volunteers and produce a timetable for finishing different stages of research with a completion date of 31.5.19.
This will be followed by a presentation at the June 2019 meeting of the Norwood Society and a guided walk around the Harold Road Conservation area during the week of the Crystal Palace Festival in June 2019.
There will be further Project meetings on Sunday April 15th and 22nd 2018.
BICYCLE THIEVES ON THE TRIANGLE
Two bicycles worth more than £1,000 each have been stolen from the Triangle area in the past fortnight – one by a pillion passenger on a motorbike.
On Monday March 26th at about 8am a black Cannondale worth approx £2,000 was stolen from outside the Four Boroughs cafe on Church Road.
"Two blokes on a motor bike mounted the pavement and the pillion passenger put it over his shoulder" said a Four Boroughs spokesman.
"By the time we got to the door the bike was down by Jake Dunn Designs. "It was over very quickly".
(Jake Dunn designs, in the old tractor shop on the Bromley side of Church Road is after the blocked off turning into St Aubyn's Road and just before the entrance to Stoney Lane, both on the Croydon side of Church Road.)
On the previous Thursday afternoon (March 22nd) a white and blue Trek Domane worth about £1,400 was stolen by an opportunist thief from outside Cadence at the top of Anerley Hill.
"Someone walking past outside doubled back. "The bike was outside without a lock on it. "We have locks we give customers and we recommend they lock their bikes up" said a Cadence spokesman.
Any information to the police on 101 or Crimestoppers on 0800 555 111 or via their anonymous online form  please.
CRYSTAL PALACE FOOD MARKET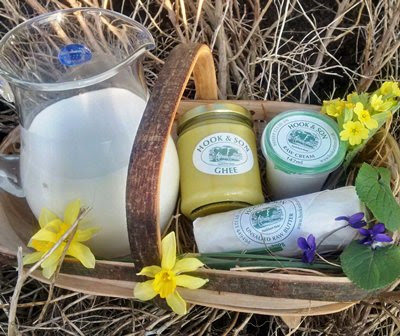 Guest lunch – Ricochez West Norwood based Richard is serving up shredded lamb in flatbreads with mint salad and Bloody Mary ketchup (and yes it tastes as good as it sounds).  The lamb is farmed on the Romney Marshes giving it that extra flavour.
Vegan lunch – Return to Shashamane Emilia is making us "Salads & sauces – chickpea salad with wakame seaweed; kidney beans with cardamom seeds and fresh tarragon; butter beans toasted with seeds and herbs; Mexican cabbage salad with herbs, chillies and onion; polenta chips; coriander chimmichurri sauce; quinoa salad. Hot – butter beans puree; spicy sauce with cayenne pepper; lentil tikka masala stew."
Guest lunch – Benin Bronze West African dumplings with various sweet & savoury accompaniments.  Menu – Dumplings with three chilli sauce, coconut & lime coleslaw £6.  Dumplings with peanut stew, coconut & lime coleslaw £6.50.  Plantains £1.50. Dumplings with cinnamon and sugar £3. Dumplings with dark chocolate & ginger £3.50"  All vegan.
Lunch – Meru Galettes Sweet crepes or savoury buckwheat galettes.
Lunch & deli – Comfort & Joy Hot tasty wraps, salads and those famous (enormous) scotch eggs plus takeaways – curries, lasagne and more.
Ferments – Terra Ferment  Turmeric kraut, classic kimchi & Salvadoran curtido, now made just a few hundred meters away in Justin's new kitchen.
Ferments – Palace Culture   Mirko says, "Our nut cream cheeses are handcrafted in Crystal Palace. Organic cashew nuts are combined with filtered water and Himalayan pink salt, flavoured with different spices and herbs and fermented using live cultures. Delicious as a spread and a great alternative options for people who are on a dairy free diet or on a plant-based diet."
Ferments – Black Garlic Michael says "The cloves can be eaten as they come, and can be spread onto a cracker, or used in cooking.  It has a smokey, balsamic taste and does not produce the strong odour that white garlic gives."
Coffee  – Brewtal Coffee  Coffee beans roasted by local Neil – get them blended and freshly ground just for you on the stall.  Find them next to Wine Scouts in the courtyard.
Olive oil & more – By Apulia  Organic extra virgin olive oils, homemade artisanal pasta (made with the best local varieties of organic wheat such as 'Sanatore Cappelli') and other Apulian traditional specialties, such as vegetables in olive oil, pasta sauces and baked products.
Preserves – Fruition Preserves  Wendy says "We are so looking forward to our first market of 2018! Sorry for the absence! We will have a selection of our signature fruit compotes including seasonal Rhubarb & Ginger and Rhubarb & Orange, both made with beautiful pink forced Yorkshire rhubarb.We will also have our full selection of delicious low sugar and salt homemade ketchups, our super nutty Granola and our limited edition marmalades: award winning bittersweet Seville Orange and zesty fresh Sicilian Lemon Marmalade. Come and say hi and try our generous tasters."
Chilli Sauces – Chilli Brothers Nathalie says "Chilli Brothers are here this week with our wonderful Artisan Crafted Chilli Sauces and hot fruit Compote. Also we will have our Virgin Organic Cold Pressed Coconut Oil. Come down for some bargains!"
Honey – P Honey Raw, unfiltered honey from Percy. We've missed you Percy!
Natural Wines – Wine Scouts  Pedro says "This Saturday I'll open a flawless biodynamic, juicy white wine from the Loire. The Muscadet Nouveau Jo Landron: young, aromatic and crisp, aromas of citrus fruit, fresh apples and a hint of mineral. The palate is as clean as it gets, aromatic and persistent. Lemony aromas on the finish. A favourite."
Smokery – London Smoke & Cure   Ross says "Crikey, another week has flown by which means just one thing – its SATURDAY and London's best market is open and on your doorstep!
This week we've got some really super smoked bacons that we'll be serving by the slice, a full spread of amazing UK cheeses, and a haul of salami from Guiseppi down in Penge. We've also got smoked butter back on, a fresh batch of Pastrami and some limited stocks of smoked salmon pates.
And news just in, we've got the lovely Ben from @crystalpalacekitchen joining us for the morning so come down and say hello and tap in to some genuine local and culinary knowledge. He'll be bringing with him some really fresh recipe ideas for how you can use produce from both our stall and others around, so catch him before he has to zoom off.  See you down there."
Storecupboard refills – The Store Cupboard  Organic whole foods for sale by weight – byo containers always welcome.
Meat – Gill Wing Farm   Andrew says "This week I'll have chicken – whole, breast, thighs, drumsticks. Grass fed beef –  mince, rump, fillet, sirloin steak, top side, rib of beef and diced. Grass fed lamb – mince, shoulder, leg, chops, neck fillet. Pork – loin, belly, chops, shoulder. Sausages – wild garlic, traditional and merguez."
Fish – Veasey's    Dan says "Wonderful weather, lovely and calm. WE WILL HAVE PLENTY OF FISH!   Lots of local, lovely smoked fish and fine shellfish.Particularly nice Newhaven scallops and fresh urchins too!"  Contact us on info@veaseyandsons.co.uk or by phone on 01342 822906.
Cheese & charcuterie – Capo Caccia  Some of what Antonio's bringing this week "Ash salami, smoked ricotta, super aged Pecorino, aged goat cheese and truffle sheep and cow caciotta."
Raw milk, butter & other dairy – Hook & Son Organic raw milk and dairy, from farmer Steve's closed herd on the Pevensey Levels.  They've been featured on Channel 4, "A Year on the Farm" – check it out here.  NEW on the stall is organic Labneh – middle eastern inspired yoghurt – find it alongside their divine ghee, raw cream and butter.
Cakes – Brett & Bailey    Joe says "We've waited five long months. Not for spring, but for bomboloni. Our Tuscan-style brioche doughnuts hit the stall again this Saturday and you're in for one long sweet summer. To celebrate we're bringing not one flavour but two – pistachio cream and raspberry ripple – which will you choose?
Other signs of warmer weather to come include the return of raspberry and coconut cake, strawberry and clotted cream cheesecake, and blueberry and lemon bakewells. Regular favourites will include Top Banana cake, peanut butter bars, salted chocolate brownies, chocolate Guinness cake, double carrot cake, cardamom knots and sticky buns. Plus, don't miss out on our brand new recipe triple chocolate cookies  – their extra chewy centres are to die for.
All that and award-winning marmalade, rich and zesty lemon curd, and pots of other lovely handmade preserves too.
Need a whole cake? Take a look at the Brett & Bailey online shop, and have your order in on a Wednesday to collect at the following Saturday's market.  See you soon!"
Bread – Levain Bakery Ciabatta, ciabattini, walnut and raisin bread, olive bread, 5 cereals, green olive bread sticks, Danish rugbrod, tomato and oregano, Paillassou, pain de Meteil, spelt, Kentish flute, belle pavot, white loaf, wholemeal load, focaccia, rye sour, cottage cob. Chris Masembe and his team at Levain Bakery have a simple philosophy; to make artisan breads to the highest possible standards. All breads are sourdoughs, and are made using their own sourdough starter, a labour of love which they have kept going since they first started the bakery.  Find Orlo or Kuba on the bread stall in the courtyard.
Seasonal vegetables, salad, herbs & fruit – Brambletye Fruit Farm, Brockmans & Wild Country Organics
Eco Products – Roots & CyclesCosmo says "All change here at Roots & Cycles…having not wanted to add to our array of refills, we've decided to anyway! You can now refill your white vinegar and pay by the litre.  (Tips for cleaning with vinegar here.) And we now have dishwasher tabs unpackaged so bring your jam jar or whatever you have to hand. Sandwich wrappers are back in the house, alongside NEW toothbrush mugs made from recycled wood pulp. Last but certainly not least sea salt crystals with rose and geranium for those extra special bath times. Plus all the usuals of course."
Original illustrations – Images Delmar  Away this Saturday, back next week.
Local art & crafts – Palace Makers   Jakki says "This week at Palace Makers we will be jam packed with all things handmade by local craftspeople. We will have local landmark screen prints by Red Faces Prints, block printed and screen printed linens by Akva Lai, Crocheted  pieces by Lime Green Lizzy, bags and purses by Dust and Roses, hair clips and hair wraps by Sakura and cards, A4 prints and fabric items by Yours,aye Designs. Come and pay us a visit and see if anything takes your fancy.
Palace Makers is part of Crystal Palace Transition Town.  If you would like to sell your handmade work at this weekly stall and you live in the local or surrounding area, we would love to hear from you. Contact us via our Facebook page, alternatively pop down to see us and have a chat."
Recycled Art – Reclaimed Republic – Upcycled arts & crafts and unique signage.
Indian necklaces & clothes – Angel Warrior
Collectables market will be open – our neighbour market Haynes Lane Market, a treasure trove of collectables.  Click here for a little peek inside.
Cafe – our friends at Antenna Cafe.
________________________________________________________________
Crystal Palace Transition Town
The Foodbank – collection point will be back next week.  Details at https://norwoodbrixton.foodbank.org.uk/  Total donated so far 1598kg.
News From Crystal Palace – we love this local news page from our friend, journalist Jerry Green.
Save Central Hill Community – support our neighbours & find out more about the proposed demolition of the estate, and how it would everyone in the area.
Our neighbours – Antenna Studios  Music, dance, performances, practice, recording & more. Also loads of great classes and the best coffee in the Palace.
We are proud to be part of Crystal Palace Transition Town.  Wondering who we are, what we do, or how you could get involved? Our blog section is a great place to start or this talk given by Joe Duggan, one of the co-chairs.
Follow us on twitter @CPFoodMarket or join us on Facebook.
CRYSTAL PALACE FOOD MARKET bottom of Haynes Lane / top of Bedwardine Road. Saturdays 10 am to 3 pm.
Now on two sites – the normal Antenna car park site and also in the Haynes Lane market courtyard.
"Meat, vegetables, fruit, eggs, honey, bread, cakes, salads, hot foods, the Cafe Thing, coffee, tea, pastries, cheese, dairy and munch munch more."
West Norwood Food bank collection: every week at the market.  Their shopping list  – which changes every so often. – can be found at
http://norwoodbrixton.foodbank.org.uk
SATURDAY APRIL 7th
LAMBETH DEMOCRACY LAUNCH
2pm to 4pm , Effra Space, 21 Effra Parade, London SW2 1PX
Speakers include representatives from Justice4Grenfell and  Friends of Highgate Library
Aims of Lambeth Democracy in the 2018 local elections
This election provides a short window of opportunity not only to build Lambeth Democracy as a campaign but more importantly to encourage all those local campaigns which are a healthy part of democracy in Lambeth. Our aims:
1.   To launch LD as a campaign
2.   To build wider awareness of and support for our policies
3. To win support for calling a Lambeth 'Peoples Parliament' and naming a date (May 26)
4.    Conduct a campaign against the undemocratic methods and policies of Lambeth council
5.    Support candidates who support the policies of Lambeth Democracy.
6.    To encourage contact between local campaigns across the borough to exchange ideas, knowledge & support
THURSDAY APRIL 12th
ORDINARY PEOPLE AT BOOKSELLER CROW
Diana Evans' hauntingly beautiful first novel, 26a, won the Orange Award for New Writers prize. We are very proud to host Diana with her new novel, Ordinary People, which partly takes place in Crystal Palace.
Set against the backdrop of Barack Obama's historic election victory, Ordinary People is an intimate, immersive study of identity and parenthood, sex and grief, friendship and aging, and the fragile architecture of love.
12th April 2018 @ 7:30 pm – 9:30 pm
WHERE: The Bookseller Crow 50 Westow St London SE19 3AF
COST: 3.00
CONTACT: Jonathan Main 020 8771 8831
LAMBETH LIBRARIES EVENTS HIGHLIGHTS APRIL 2018
Lambeth Libraries events April 2018 highlights include:
Brixton spring bazaar
Saturday 7 April, 11am to 3pm. Brixton Library
Join the Friends of Brixton Library for an afternoon of: Free Spring seed planting, crafts, Badge making and paper craft fun, book sale and brix-a-brax (bric-a-brac!) with a selection of books for sale.
Stop Exam Stress
Saturday 14 April, 1pm to 3pm. Streatham Library
Get tips on reducing exam stress and pressure using art therapy. The workshop will be led by an experienced art therapist who will help students to reflect on their levels of stress and discuss ways to reduce it using art therapy activities. A FREE 3 hour workshop for students aged 15 – 19 years preparing for their exams.
Durning Library Friends AGM and talk by Edmund Bird
Monday 16 April, 6.45 for 7.10pm. Durning Library
Edmund Bird, Lambeth's former Head of Conservation, will explore our Victorian public buildings.  He will focus particularly on the northern districts and public libraries, but will also cover housing, schools, parks, industrial sites and lost architectural treasures.  His first four books appraised the 20th century architecture of the borough, whilst his new book assesses Lambeth's rapid expansion between the 1830s and the 1900s. NB. As this is the occasion of our AGM, the talk will start at 7.10, and the AGM itself at 7.50pm. Light refreshments. Everyone is welcome. There is no admission charge, but a £2 donation towards costs is invited.
Vinyl Memories
Tuesday 17 April, 3.30pm. Tate South Lambeth Library
Join Michelle Killington for Vinyl Memories. Bring along your favourite black music vinyl from the 70s, 60s or even the 50s!  Music that reminds you of leaving home, arriving in a new home or simply dancing, loving, surviving…  You can bring along your records but do let us know beforehand so we can be prepared. Send your top tracks for the afternoon to southlambethlibrary@lambeth.gov.uk and hopefully we can get them played and you can tell us why they have meaning for you. You never know you may get the crowd dancing!
Unshakeable You! Book talk and signing with Victoria Griffith
Wednesday 18 April, 6.30pm. Streatham Library
Book talk by author Victoria Griffith – Awarded the …Freedom For Women's Advocate Award 2017. Join Victoria, mother, author and transformational life skills strategist to hear her amazing journey of courage, resilience, self-discovery, healing and triumph. Tickets £5 available in advance from https://booktalkunshakableyou.eventbrite.co.uk/.
Art for You: learn and relax with drawing and painting
Friday 20 April, 10am to 11am. Clapham Library
Taster session for a 5-week course with our highly experienced tutor and local artist Marie. No experience necessary. Please note this is a taught course, not drop-in, and you will need to attend all 5 sessions, – Please contact the Library on 0207 926 0717 for more information.
Creative writing workshop with Joy Rhoades
Monday 30 April, 10am to 12pm. Clapham Library
Workshop participants will together create the outline for a novel in three acts. This fast-paced and fun workshop is for beginners, as well as for those who want to learn more about shaping a story. Led by Joy Rhoades, best-selling Australian author, the workshop is designed to inspire and unleash your creativity. Limited space available, so booking essential on 020 7926 0717claphamlibrary@lambeth.gov.uk