CRYSTAL PALACE FOOD MARKET
Our Patchwork Farm stall is back!  They're a friendly bunch & new volunteers are always welcome. You could be on the stall, or do some gardening on one of their sites. Ask at the stall for more information, or click here.
SOME LIKE IT HOT – SOME LIKE IT COOL Saturday at the Food Market
Saturday 21st April
Organic veg, fruit, meat, fish, eggs, milk, butter, vegan, cakes, ferments, bread, pastries, fresh ground coffee, smokery, preserves, olive oil, olives, natural wine, store cupboard refills (herbs, tea, flours, rice, nuts, oils), eco cleaning refills, eco house supplies, salads, wraps, lunch, coffee, local art & crafts, handmade candles & food bank collection
Sun's out, buns out! Join us down the market & make the most of this gorgeous weather.  After you've done your shopping, Antenna Cafe is a lovely place to sit in the sun with a nice cold beer & watch the world go by.
NEW STALL Guest lunch – Mike & Ollie  Flatbreads with a choice of fillings. "Lamb shoulder marinated with our spice blend then slow roasted (limited amount due to late season).  Free range porkmarinated with our spice blend then slow roasted. Veg/vegan char grilled aubergine marinated with our spice blend then grilled til smokey & juicy.  Fish – usually East Sussex mackerel but may change, fried on the grill & baptised with lemon & sumac.  All our handmade, hot, fluffy, chewy flatbreads are also filled with hummus, fresh chopped herb & vegetable salad, green chilli salsa, & toasted seeds."
Vegan lunch – Return to Shashamane Emilia is making us "Salads & sauces – chickpea salad with lettuce & cashew dressing; kidney beans with cardamom seeds and fresh tarragon; butter beans toasted with seeds and herbs; Mexican cabbage salad with herbs, chillies and onion; polenta chips; coriander chimmichurri sauce; quinoa salad. Hot – butter beans puree; spicy sauce with cayenne pepper; lentil tikka masala stew."
Lunch – Meru Galettes  Made by Gabriel and Michelle. Did you know the galettes are naturally gluten free?
Lunch & deli – Comfort & Joy Hot tasty wraps, salads and those famous (enormous) scotch eggs plus takeaways – curries, lasagne and more.
Local honey – P Honey Raw honey from Percy's bees.
Cakes – Brett & Bailey   Joe says "Sun's out – buns out. Summer hits the stall this Saturday as we're bringing our first strawberry and cream bomboloni of the year, and a batch with a creamy choc-chip stracciatella filling too. Find them on the stall next to our sticky buns and cardamom knots.
Don't miss Rhubarbra Streisand's final appearance on the cake parade this Saturday – she'll be on sale alongside our Blue Velvet cake with blueberry chiffon sponge, homemade blueberry vanilla jam and lemon buttercream; chocolate Guinness; double carrot; and a welcome appearance from our pistachio cheesecake.
We'll also have peanut butter milk choc chip cookies; salted chocolate brownies; raspberry bakewells; a gluten-free lemon and rosemary drizzle cake and a vegan chocolate lime cake. Plus plenty of pots of homemade jams, lemon curd and our Great Taste Award-winning marmalade."
Cheese & charcuterie – Capo Caccia  Antonio says "Yo yo! Blue cheese for a blue sky, smoked ricotta for the big smoke! Organic pecorino and gluten free salami for a sunny day, premium olive oil for a fresh salad, delicious Sardinian delicacies for a rocking picnic."
Local growing project – Patchwork Farm They're back! Marina says "Make new friends, learn new skills, Join the Patchwork Farm crew! Volunteer on our stall at the market – 2 shifts to choose from 10:30 to 12:30 OR 12:30 to 2:30. Volunteer once or every week, suit yourself. Click here for the rota details.
Coffee  – Brewtal Coffee  Coffee beans roasted by local Neil – get them blended and freshly ground just for you on the stall.  Find them next to Wine Scouts in the courtyard.
Olive oil –  Mar de Olivos Spanish extra virgin olive oil & lovely marinated olives from Maria.
Chilli sauce – Chilli Brothers Nathalie says "Chilli Brothers have some wonderful artisan sauces & vibrant chilli fruit condiments for these lovely Summer afternoons & evenings.  Works with charcuterie, cheese, salads, marinades, dips, dressings, and desserts. Come down for some local discounts!"
Ferments – Terra Ferment  Kraut, kimchi & Salvadoran curtido, made by Justin in his Crystal Palace kitchen.
Ferments – Black Garlic As well as his fermented black garlic, Michael has made onion & black garlic chutney. £3 each of 2 for £5.  He uses compostable vegware packaging for his garlic.
Ferments – Palace Culture Vegan soft 'cheese' made by Mirko. You loved them last time, so he's bringing some larger jars as well. If you bring your clean jars & lids back you get 50p off. Ask him about the
Natural Wines – Wine Scouts  Pedro says "Gorgeous weather! This Saturday I will open a crispy, aromatic white and a mouthwatering, delicious rosé. The white wine is the Pirineos 3404 Blanco from Somontano in NE Spain. It has diverse aromas of citrus, orange blossom, white chocolate and vanilla as well as fruit notes of quince and melon ( well, it is a blend of Chardonnay, Gewurztraminer, Sauvignon Blanc!). The palate bursts with fruit notes as well as hints of jasmine, lavender and white flowers. The rosé is the Petit Pittacum Rosado from Bierzo in NW Spain, with a clear salmon-pink in colour. The nose is packed with red fruits aromas backed up with floral notes of rose petals and cherry blossom. Medium-bodied on the palate with further flavours of raspberries and strawberries. The finish is lingering and clean. Yum!"
Smokery – London Smoke & Cure  Ross says "We've got a brand new stocks across our range to keep you happy in these warmer climes. If you're looking for cheese we've got some super fresh little goat cheeses that would go excellently in salads or lighter meals. We've also got fresh stocks smoked organic pork belly – imagine bringing that out with a few cool beers at a picnic with your friends! And if you're looking for something cooling we'll have ample pots of fresh salmon pate. And much more besides as well."  Call Ross – 07837 838 241 for any pre-orders.
Essential oils – Jade from DoTerra
Storecupboard refills – The Store Cupboard  Laura says "We've just unpacked our biggest ever delivery, so we are FULLY stocked with all the wholesome goodness. One of the reasons the order was so large is we're now able to order more products in 25 litre bags, which means they come in sewn up paper rather than plastic. We've been working towards this for a long time. Yah!"
Meat – Gill Wing Farm   Andrew says "I've got some amazing 42 days maturing steaks, tripled minced ground beef great for burgers, minute steaks. Lamb chops, legs ideal for butterflying, minced lamb for your burgers, koffta pork belly steaks,  traditional sausages, wild garlic sausages, merguez, and nice plump chicken – breast drums and thighs."
Fish – Veasey's   Dan says "This weekend with the hope for good weather we will have fish for the BBQ, Tuna Steaks, Swordfish Steaks, Whole Seabass, Giant Wild Prawns, Whole Sea Bream and also if we get time some lovely marinated BBQ ready bits!  See you on Saturday! "  Contact us on info@veaseyandsons.co.uk or by phone on 01342 822906.
Milk, butter & other dairy – Hook & Son Organic milk and dairy, from farmer Steve's closed herd on the Pevensey Levels. Please note, for the next couple of months, Hook will not be able to sell raw milk. Please click here for full details. We hope you join us in supporting the farm in this difficult time.
Bread – Levain Bakery Ciabatta, ciabattini, walnut and raisin bread, olive bread, 5 cereals, green olive bread sticks, Danish rugbrod, tomato and oregano, Paillassou, pain de Meteil, spelt, Kentish flute, belle pavot, white loaf, wholemeal load, focaccia, rye sour, cottage cob. Chris Masembe and his team at Levain Bakery have a simple philosophy; to make artisan breads to the highest possible standards. All breads are sourdoughs, and are made using their own sourdough starter, a labour of love which they have kept going since they first started the bakery.  Find Orlo or Kuba on the bread stall in the courtyard.
Organic veg, fruit & herbs – Brambletye Fruit Farm, Brockmans & Wild Country Organics
Eco Products – Roots & Cycles Cosmo says "Roll up roll up and see what we have for you this week.
Unpackaged and ready for whatever receptacle you want to use.
Organic doves farm bread flour.
Food grade bicarbonate of soda.
Dead sea and geranium bath salts.
Dishwasher tablets.
You can buy any amount you want and we will weigh it out for ya. Save on plastic and save on price. We also sell white vinegar by the barrel so bring a bottle and fill up."
Candles – Jennny Brandon
Original illustrations – Images Delmar  Dylan says "Limited edition numbered Moebius prints, only one available of each design… very rare and I feel lucky to be around them…. so much detail!!! It's blowing my mind!  Oh Moebius… were you born genius or abducted by aliens and injected with magic juice???"
Local art & crafts – Palace Makers   Jakki says "This week at Palace Makers we will have a smorgasbord of locally handmade items including local landmark screen prints by Red Faces Prints, block printed and screen printed linens by Akva Lai, Crocheted pieces by Lime Green Lizzy, bags and purses by Dust and Roses and handcrafted notebooks by Nicky Rogers.
Palace Makers is part of Crystal Palace Transition Town.  If you would like to sell your handmade work at this weekly stall and you live in the local or surrounding area, we would love to hear from you. Contact us via our Facebook page, alternatively pop down to see us and have a chat."
Recycled Art – Reclaimed Republic – Upcycled arts & crafts and unique signage.
Collectables market – our neighbour market Haynes Lane Market, a treasure trove of collectables.  Click here for a little peek inside.
Cafe – our friends at Antenna Cafe.
Crystal Palace Transition Town
The Foodbank – collection point will be back next week.  Details at https://norwoodbrixton.foodbank.org.uk/  Total donated so far 1598kg.
News From Crystal Palace – we love this local news page from our friend, journalist Jerry Green.
Save Central Hill Community – support our neighbours & find out more about the proposed demolition of the estate, and how it would everyone in the area.
Our neighbours – Antenna Studios  Music, dance, performances, practice, recording & more. Also loads of great classes and the best coffee in the Palace.
We are proud to be part of Crystal Palace Transition Town.  Wondering who we are, what we do, or how you could get involved? Our blog section is a great place to start or this talk given by Joe Duggan, one of the co-chairs.
Follow us on twitter @CPFoodMarket or join us on Facebook.
CRYSTAL PALACE FOOD MARKET bottom of Haynes Lane / top of Bedwardine Road. Saturdays 10 am to 3 pm.
Now on two sites – the normal Antenna car park site and also in the Haynes Lane market courtyard.
"Meat, vegetables, fruit, eggs, honey, bread, cakes, salads, hot foods, the Cafe Thing, coffee, tea, pastries, cheese, dairy and munch munch more."
West Norwood Food bank collection: every week at the market.  Their shopping list  – which changes every so often. – can be found at
http://norwoodbrixton.foodbank.org.uk
(The above is copied from an email; which mentions various links – for full links please go to the market website – Thanks)
LIBRARY OF THINGS – UPPER NORWOOD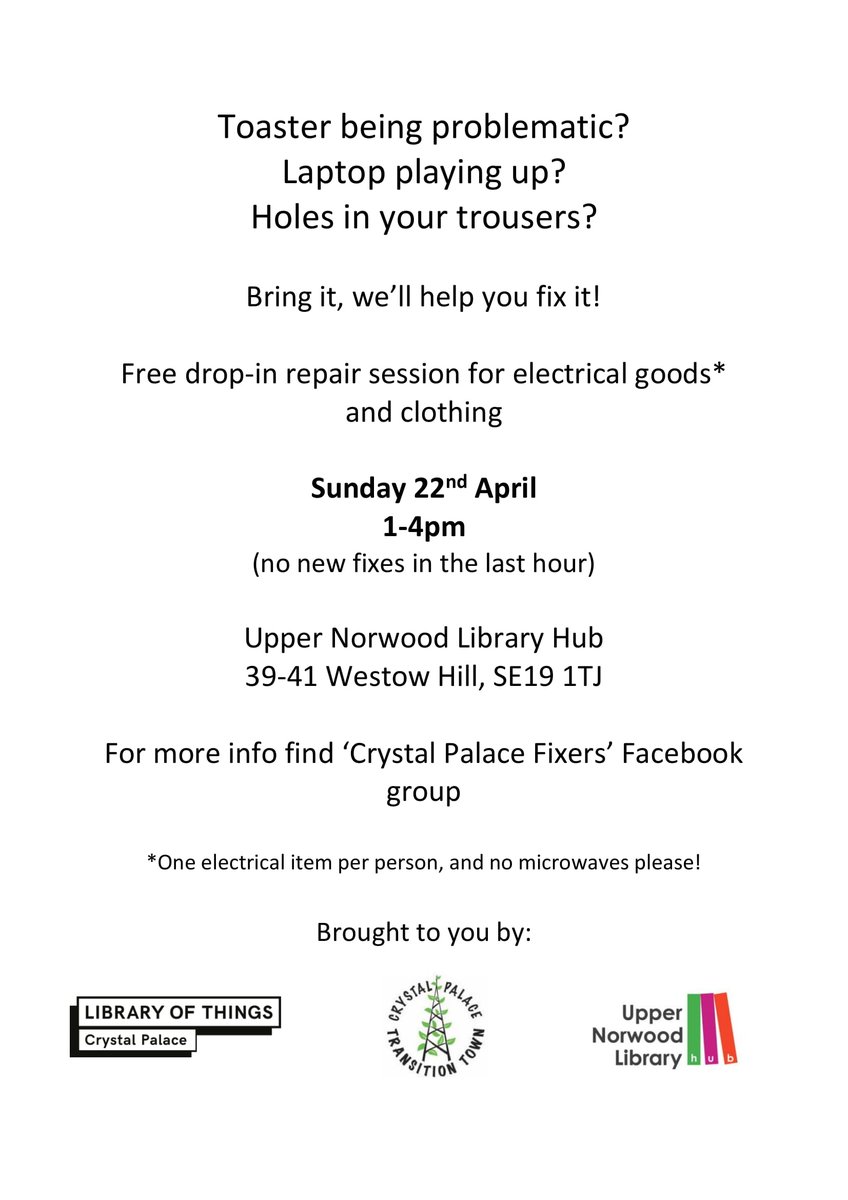 BUSINESS BAGEL
WITH SPECIAL GUEST RICHARD GREEN
Richard Green, who works as part of the regeneration team for Croydon Council, will attend our April Bagel. Richard will do a brief presentation on the Business Support that is available from Croydon council and answer any questions businesses may have on Regeneration. Richard said that if he does not have the answers to any questions asked, he is more than happy to find out and get back to people
Come and join us on Tuesday 24th April at Upper Norwood library! 10 am.