Andy Plant, Cressingham Gardens estate campaigner and Green party candidate for Tulse Hill Tweeted: Just saw a copy of "Herne Hill Today", a Labour "news"paper. P3 is especially interesting, as it contains a set of smears that anyone who investigates the author's "facts" might find informative.
(Editor's note:  The false allegation that Cllr Scott Ainslie could not be bothered to go to the council's overview and scrutiny committee is covered in 'PLANET LAMBETH' on this website
The Carnegie library is not fully staffed. And as for the claim that "We are voting for Jack, Jim and Pauline in Herne Hill" next to an obscured photograph on the right hand side then please see:  Lambethwatch – Time for a Change).
TELL ME LIES….
Lambeth Green Party Retweeted Peoples Audit@PeoplesAudit .@cllrpeck now says the number of council homes built in the Borough since 2014 is "not 1,000, nearer 175"#PAhustings18
…TELL ME (EVEN) MORE LABOUR LIES 
The Log Lady@gamecounsel This is what #Lambeth #Labour are distributing in my area about the proposed demolition of #Cressingham Gardens. Absolutely diabolical spin. Please vote them out on 3rd May. #TulseHill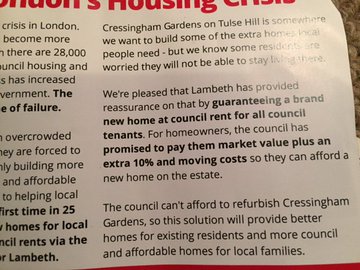 Further reading: Loony Lambeth – Three: OPINION: TELL ME LIES, TELL ME LIES, TELL ME MORE LAMBETH LIES…..* (This website, May 5th 2017)