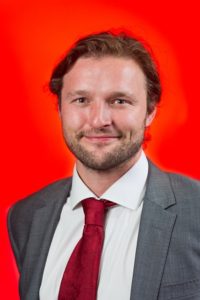 NEW COUNCIL LEADER NAMED "I want to bring Lambeth together" – Jack Hopkins
Cllr Jack Hopkins is the leader-elect of Lambeth council following his selection by the Labour group of councillors on Monday (Jan 28).
He is expected to be confirmed as leader of the council at its next full meeting on February 13.
Cllr Hopkins said: "I'm delighted and honoured to be chosen to lead this wonderful borough. "I can't wait to get started and pick up the great work already being done by this administration.
"I've lived in Lambeth for 15 years and been a councillor here for over 8 years – I know what the borough is all about, the challenges we face and the incredible opportunity here. "I am determined to make sure those opportunities reach every resident and that our young people get the best start in life.
"Lambeth is a place of energy, creativity and diversity, with fantastic community groups, an engaged voluntary sector and businesses that want to play their part. "As leader, I want to bring Lambeth together and I'm optimistic that we've got the energy and skills to tackle the challenges we face."
Cllr Hopkins first worked at Lambeth as an officer in the strategic partnership and chief executive's office in 2005.
He has been a councillor in Oval Ward since 2010 and has been a Cabinet Member since 2012, covering various portfolios including regeneration, economic development, employment, planning, community safety and culture. He became deputy leader of the Council in May 2018.
The selection comes following current Leader Cllr Lib Peck's announcement on January 14 that she would be stepping down from the role after six-years.
Cllr Peck is taking up the role of Director of the Mayor of London's Violence Reduction Unit, and will also be stepping down as a councillor. (Source: Lambeth council's 'Love Lambeth' website)
(One report reproduced on the Lambeth Labour party Twitter feed said there were four candidates for the post – the others were Cllr Matthew Bennett; Cllr Jennifer Brathwaite and Cllr Claire Holland – Ed.)
LEWISHAM GIVEN £10,000 TO EXPLORE ADS BAN ON HIGH FAT, HIGH SUGAR AND SALTY FOODS "Almost one in five children in borough already obese when they start reception"
Lewisham council are among 13 councils across the United Kingdom which have been awarded £10,000 to explore banning unhealthy food advertising borough-wide.
The advertising ban will cover high fat, high sugar and salty foods.
The money, which comes from the Department of Health and Social Care, Public Health England, Association of Directors of Public Health and Local Government Association, will be used for a feasibility study.
This pilot will be led by unique collaboration between us, Outsmart (who represents the advertising companies), the main brand advertisers represented by Incorporated Society of British Advertisers (ISBA), and City University's Centre for Food Policy.
Cllr Chris Best, Lewisham's cabinet member for health and adult social care, said: 'We are one of 13 councils that are part of this initial stage out of 102 that applied, so we are thrilled to be able to take our ideas forward.
'In Lewisham, we are making progress to reduce childhood obesity across the borough.
"But nearly one in five children are already overweight or obese on entering Reception, rising to more than one in three in Year 6.
"Tackling obesity is part of our agenda to reduce health inequalities "It is unacceptable that nationally children from the most deprived areas are more than twice as likely to be obese than children in the least deprived areas.
"Research demonstrates that the development of children's food preferences and behaviours are influenced by advertising and through working in this space we have a real opportunity to positively shape their behaviours and impact child obesity rates. "Regulators and brands recognise that they have a role to play."
The ban would be complemented with a high profile advertising campaign of behaviour change messages, for example Change 4 Life, Daily Mile and Sugar Smart activities. In April, after the exploratory phase has finished, Lewisham say they will be able to bid for up to £300,000 of further funding over three years to fully implement and evaluate the impact of the ban. (Source: Lewisham council press release.)
COMPANY FINED AFTER WASTE FLY-TIPPED IN RECREATION GROUND
A building company has been ordered to pay fines and costs of £1,434.50 after fly-tipped building and construction waste was discovered in Churchfields recreation ground, Beckenham.
Following discovery of the fly-tipped waste in July 2018 and subsequent investigation by a council enforcement officer, the council were told they sometimes used a waste operator that he thought held a waste carriers licence.
An employee contacted the waste operator who was unavailable and his son's friend collected the waste in his place. Around 15 to 20 black bags and some cardboard was taken for a £100 fee. As the investigation concluded that the company did not have a waste carrier licence and could not show that legitimate waste carriers were used, prosecution commenced.
A Bromley council spokesman said: "Residents and businesses have a duty of care to dispose of their waste responsibly or they could face a substantial fine or court action as part of the 'Fly-tippers – we're watching you' campaign.
"Householders should be cautious about giving any waste, including their garden or building waste, to cold callers offering a seemingly cheap price to remove it.
"By law, waste carriers must pay to dispose waste at a waste transfer station but unauthorised waste carriers may evade these costs by dumping it."
To search or check for licensed waste carriers, visit http://www.bromley.gov.uk/wastecarriers
Anyone witnessing an envirocrime, such as fly-tipping, taking place is advised to call the police straightaway and report the details to the council at http://www.bromley.gov.uk/envirocrime As a 'thank you', up to £500 from the Envirocrime Reward Scheme is available to anyone whose evidence is used to successfully prosecute offenders. (Source: Bromley council press release)
FREEDOM PASS RENEWAL
If your Older Persons Freedom Pass expires on 31 March 2019, you will receive a letter in early February telling you how to renew your pass.
Freedom Passes must be renewed every five years. Therefore, residents whose pass expires on 31 March 2019 will need a new pass in order to keep using the scheme.
More information is available here. (Source: London Councils release)