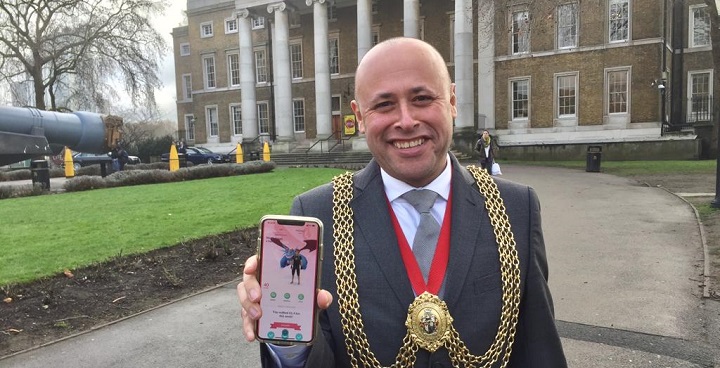 Mayor of Lambeth Cllr Christopher Wellbelove is inviting the Pokemon Go community to come together at Lambeth town hall on March 1st in what may be a 'first'.
Lambeth council say the town hall will be hosting what could be the first official Mayor's reception for players of the augmented reality mobile phone game.
As well as being Mayor of Lambeth, Cllr Wellbelove is also a big fan of Pokemon Go.  Like many people, he started playing the game as a way to get more exercise. Unlike other smartphone games, Pokemon Go requires you to travel to landmarks, tube stations etc to capture the monsters. Many players have noted health benefits from the travel.
The Mayor says: "There is a lot of misunderstanding about the game and its players – a form of prejudice – and people in the past have said to me 'how sad' they think the game is."
The reception hopes to help change that prejudice, said a council spokesperson. More than 100 people have already signed up and the Mayor will be running a tournament in the council chamber which will raise money for local mental health charity Mosaic Clubhouse. Mental health and suicide prevention is the key theme of Christopher's year as Mayor of Lambeth.
He added: "What I have seen is that Pokemon Go has created a community of players who come together to play the game and from this have built real-life friendships. "The community is incredibly diverse and it is great that the game brings together people who otherwise would probably not socialise."
For more information
The Pokemon Go reception is open to anyone who plays the game in Lambeth. It will be held in the Mayor's Parlour on 1 March from 18:00 – 20:00.
Tickets available at https://tinyurl.com/pokemongomayor.
Entry is free, but money raised on the night will go to Mosaic Clubhouse