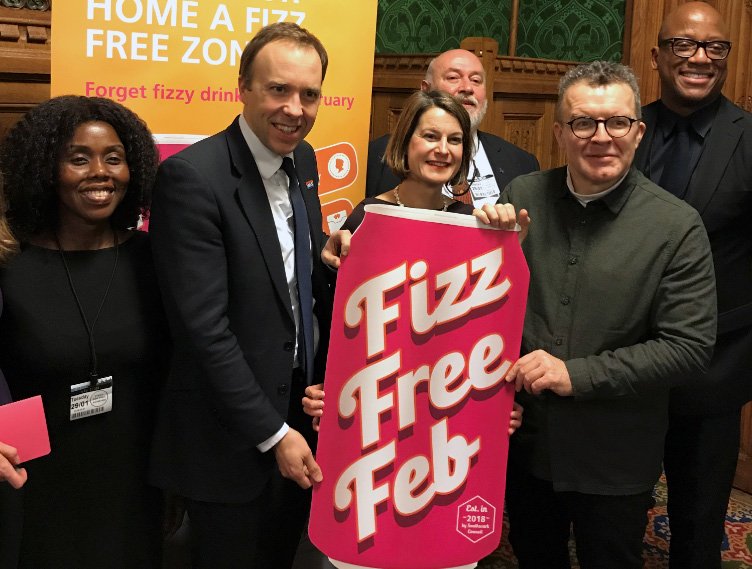 ITS FIZZ FREE FEBRUARY AGAIN IN SOUTHWARK –  "The fact so many councils up and down the country have jumped on board this campaign shows local government's commitment to tackling childhood obesity head on" -Cllr Evelyn Akoto
Fizz Free February got off to an explosive start for 2019, with celebrities, politicians, schools and councils across the country pledging to give up fizzy drinks.
Launched last year by Southwark council, Fizz Free February 2019 is uniting people across the country in a bid to #gofizzfree and make healthy choices instead. From Sandwell to Barnsley, Kent to Newcastle, Northampton to Lancashire, councils and individual councillors have all signed up in a bid to tackle obesity and tooth decay. Many areas have followed Southwark's lead in encouraging schools to sign up and get involved, as one of the key objectives of the campaign is tackling childhood obesity.
Representatives from campaigning groups, health organisations, local businesses, charities and local government came together in the Houses of Parliament to hear from key speakers including Fizz Free February spokesperson Cllr Evelyn Akoto, Tom Watson MP, British Dental Association chairman Mick Armstrong and Ben Reynolds, Deputy CEO of Sustain.
Hosted and chaired by Helen Hayes MP for Dulwich and West Norwood, the debate covered how Fizz Free February is a simple but effective way to help change habits and raise awareness of what we consume. Panellists highlighted the various ways that sugary fizzy drinks impact on physical and oral health.
Mick Armstrong highlighted that dentists are still seeing children as young as three years old need fillings and tooth extractions due to decay.  Tom Watson and Helen Hayes also shared their personal experiences with diabetes and how reducing sugar had played a key roll in reversing the disease.
The discussion also highlighted the other important work that goes on year round to tackle obesity, like the Alexandra Rose voucher scheme in Southwark which give low income families vouchers to spend on fruit and veg, increasing access to water fountains and the need to improve and simplify food and drink labelling.
The event was drawn to a close by a visit from Secretary of State for Health and Social Care Matt Hancock who has also lent his support to the campaign.
Southwark is moving in the right direction when it comes to childhood obesity but there is still a long way to go as the borough is still above the London average when it comes to obesity levels. When ranked against other London boroughs Southwark has seen improvements. The borough has gone from fifth highest for excess weight in year 6 in 2016-17 to eleventh place in 2017-18, the first time since records began that Southwark has been outside the top ten in London for excess weight in this age group. For children in reception Southwark has gone from third to fourth in this age bracket for levels of excess weight.
To join in, just pledge to give up fizzy drinks for 28 days and tweet us using #GoFizzFree. You can also take part by signing up on our website.
Cllr Evelyn Akoto, Southwark's cabinet member for community safety and public health, said: "Childhood obesity is arguably the biggest health crisis of a generation.
"In Southwark we want to make it easy for people to make small changes that have big benefits, and Fizz Free Feb is a fun way to encourage young people to think about their health. "But of course this work extends far beyond just the 28 days of February.
"The fact that so many councils up and down the country have jumped on board this campaign shows local government's commitment to tackling childhood obesity head on.  "To everyone who has taken the fizz free pledge, good luck! "I hope this is a springboard to a healthier and happier life for you and your families."
Jamie Oliver said:  "Sugary fizzy drinks are the biggest single source of sugar in the average kid's diet. "So it's a fantastic idea to go fizz-free for a month – your body and teeth might really enjoy it! Sign up and tell me how you're getting on #GoFizzFree."
Hugh Fearnley-Whittingstall said: "As Britain's obesity crisis continues, evidence for the damaging effects of sugar is mounting up. "A major recent report from The Lancet confirmed that a high intake of sugary drinks is associated with weight gain, type 2 diabetes and heart disease. "We've got to find ways to drastically reduce our consumption of sugar and Fizz Free February is a fantastic way to start."
Ben Reynolds, Deputy CEO of the food and farming charity Sustain, commented: "We've had a huge interest in Fizz Free February across our network of local Sugar Smart campaigns across the UK. "There is a huge appetite to find ways to make it easier for people to cut down on sugar and fizzy drinks, and challenges like this can really help motivate those lifestyle changes. "We hope that more areas and organisations will get on board to spread the message." (Source: Southwark council press release)
WORK STARTS ON INSTALLING MORE VEHICLE CHARGING POINTS IN CROYDON
New public charging points for electric vehicles are currently being installed across Croydon.
In total eight new charging points will be installed across three different locations in the borough.
The sites were chosen after residents approached the council to ask for charging infrastructure and are some of the 400 charging points Croydon will install across the borough by 2022.
Two new chargers are being installed on Colson Road and Edridge Road with two more active chargers installed on Tavistock Road alongside the infrastructure so two further charging points can be added at a later date.
Specific locations are chosen following approaches by residents or businesses and are designed to help deliver a borough-wide network of charging points as well as support zero and low emission transport initiatives.
Cllr Stuart King, Croydon's cabinet lead for environment and transport, says: "We are installing these charging points at locations where we know there is demand, and as part of ambitious plans to promote wider use of electric vehicles.
"We are determined to make sustainable journeys across Croydon easier than ever before and a key part of that is expanding our green infrastructure to meet growing demand for it.
"We are committed to working with communities to tackle air pollution." (Source: Croydon council press release)
REMOVAL OF LAMBETH'S PAY AND DISPLAY MACHINES
Pay and Display machines are being removed from the streets of Lambeth. The 641 machines will go in a phased approach, to be replaced by Pay by Phone and PayPoint payment methods, which Lambeth council say nine out of 10 customers currently use.
Removal of the Pay and Display option will reduce the baseline cost of delivering the On-Street Parking service by £431,000 in year one and £471,000 p.a. going forward which is equivalent to £1,373,000 over the next three years, says a council report.
FREQUENTLY ASKED QUESTIONS: Removal of Pay & Display Machines
Why are you removing the Pay & Display machines?
Our current stock of pay and display machines are now old, and many are beyond repair and there is already a large number of machines which we have had to take out of service or remove. Pay by Phone is much more reliable service and enables you to pay quickly for your parking.
What is Pay by Phone?
Pay by Phone is an easy and affective way to pay for parking using an app on your phone. You do not have to display or carry loose change. You just need your phone and payment card.
Do customers already use this service?
Yes, an average of nine out of 10 customers currently use the Pay by Phone service. In some locations this is even higher.
Have you removed machines before?
Yes, the Council has ran a number of pilots across the borough. The results showed that in all cases customers were happy to use the Pay by Phone Service. In addition, in our new Controlled Parking Zones, customers can only use Pay by Phone or PayPoint to pay for parking.
How do I register for Pay by Phone?
You can register by downloading the PaybyPhone app (IOS/Android) these can be found on the Apple/Play Store. Registration is simply and easy, you will need a telephone number, email address and payment card – Visa or MasterCard.) Alternatively, you can register by calling 020 7023 9078.
Are there any other services available on the app?
You can extend your parking sessions, receive text reminders view your parking history, obtain receipts, view charging details and amend optional SMS/emails from your customer account via the cashless parking website.
Is there a charge for using the service?
No, you will only have to pay the council's parking charge for the location you are in and the length of time you are staying. The cost of your parking session will be shown on your app or you will be advised by the PayPoint retailer.
How do I know where I have parked?
There is a location code clearly displayed on the sign for that parking bay.
Can I still use the service if I don't have a smart phone or device?
Yes, in addition to the location code you will also find a phone number to call if you are having difficulties paying for parking. (Source: Lambeth council report)