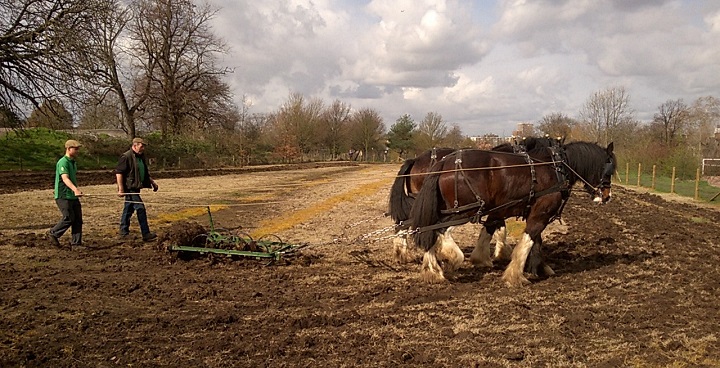 A new grass and wildflower meadow is being created this month in Brockwell Park.
The new space, designed to boost biodiversity and be a home to local species of grass and food plants, uses a site left by a redundant Redgra pitch between the BMX track and the Lido.
With weeds and scrub burned out earlier in March, a team of heavy horses from Operation Centaur started onsite in mid March to prepare the ground for seeding the new meadow.
Operation Centaur maintains the last working herd of Shire horses in London, and is dedicated to the protection and survival of the breed. They are based in Richmond Park and work regularly in London's Royal Parks and Historic Royal Palaces. They also take part in charity and conservation projects to show the sustainability of humans and horses working together.
Trust for Conservation volunteers were set be working with Lambeth's Parks team to prepare the new meadow, sowing grass and wildflower seeds yesterday (Wednesday 27) and today (Thursday 28. March).
Cllr Sonia Winifred, Lambeth cabinet member for culture, says: "This is a great example of heritage farming methods and community volunteers coming together to add another important, environmentally-friendly feature that will make Lambeth's award-winning Green Flag parks even more attractive."
For more information
SUEZ recycling and recovery UK has contributed over £110 million to support more than 4,000 projects through the Landfill Communities Fund and Scottish Landfill Communities Fund. For more information about projects and funding please see their information pages
For more about Operation Centaur and the conservation work that the Heavy Horses are involved in please see their information pages (Source: Lambeth council's 'Love Lambeth' website)