Lunches this week at the Food Market
Lunch & deli – Comfort & Joy Hot tasty wraps, salads and those famous scotch eggs plus takeaways – curries, lasagne and more.  Great picnic food to take away.
Guest lunch – Lucknow to London. Nida says, "We will be dishing up our much loved slow cooked mutton, it's been on the stove for about 12 hours! Cooking up too our butter pulled chicken it's getting as popular!! Also making spicy aubergine a favourite for the veggie lovers! Served with mum's special lentils and rice. See you on Saturday."
Vegan lunch – Benin Bronze. Setonji's serving up Peanut Stew, Benin Style Rice and Plantain £5 and Hot Banana Dumplings £3.50.
NEW STALL Snacks – Electric Future Foods Vegan frittatas and a sugar-free, sea moss sorrel drink.
Cakes
Cakes – Brett and Bailey.  This weekend we're bringing our very last semlor of the year – and we really do mean it this time – so it's your last chance to pick up a couple of these sweet cardamom buns, packed with almond paste and towering with freshly-whipped organic cream. Bet you can't guess what we're replacing them with…
Also on the stall this week we'll have blood orange and elderflower cake, the return of the Blue Velvet, strawberry and clotted cream cheesecake,  chocolate Guinness cake, double carrot cake, and a Speckled Egg chocolate cake layered with golden caramel too. We're also bringing raspberry pistachio crumbles, custard tart, salted chocolate brownies, peanut butter bars, triple chocolate cookies, sticky buns, cardamom knots, and plenty of jars of our Great Taste Award-winning marmalade (more jam in a couple of weeks, I promise).
Need a whole cake? Order online by Wednesday nights to collect from the following Saturday's market.  See you soon!
Gluten-free – Owl Kitchen
Pastries – Levain Bakery pastries, Portuguese custard tarts, doughnuts.
Pastries – Bread Bread Croissant, pain au chocolat, pain au raisan, almond croissant and much more.
Visiting stalls
Olive Oil –Elia Olive Oil. Award winning Cretan organic extra virgin olive oil in 3 quantities, 500ml, 750ml and 5 litres.
Chocolate – Gemini Chocolate – raw chocolate, made in West Norwood, single origin.
Spicy preserves – Chilli Brothersare back with their delicious selection of gourmet artisan crafted chilli sauces. Check out our wonderful condiments; Apple with Yuzu, Orange with Ginger and more flavours. All free from preservatives and 100% vegan.
Preserves & more – Black Garlic. Micheal says, "I'll have butterbean and sun-dried tomato pate, peanut butter, black garlic fudge, vanilla fudge and hopefully some Jack Daniels fudge too."
Olive oil and olives – Yellow Sunshine  Olives, baclava, Turkish delight
CBD & more – Eat Moringa David says "NEW COPPER CUPS in STOCK  Copper is an essential trace mineral necessary for survival. It is found in all body tissues and plays a role in making red blood cells and maintaining nerve cells and the immune system. It also helps the body form collagen and absorb iron, and plays a role in energy production. Copper is considered an essential mineral for our body.
Ayurveda recommends storing water overnight in a copper jug and drinking it first thing in the morning for maintaining good health. The water stored this way is called 'Tamra Jal' and it helps to balance all three doshas (Kapha, Vata and Pitta.) The doshas are biological energies found throughout the human body and mind. They govern all physical and mental processes and provide every living being with an individual blueprint for health and fulfilment. The doshas derive from the Five Elements and their related properties. Love Copper "
Groceries
Storecupboard refills – The Store Cupboard  You can pay by card or cash. Follow us on Instagram, Twitter or Facebook.  We are also open on Wednesdays from 2-7pm.
Bakery & pastries –  Bread Bread   Woodfired sourdough bread and pastries, made in Brixton.  Find Bread Bread in their new spot in the lower market, next to Brockmans Farm.
Cheese & charcuterie – Capo Caccia
Fresh pasta – Pasta di Grazia   Full range of handmade Italian pastas and sauces.
Bread – Levain Bakery  Chris Masembe and his team at Levain Bakery have a simple philosophy; to make artisan breads to the highest possible standards. All breads are sourdoughs and are made using their own sourdough starter, a labour of love which they have kept going since they first started the bakery.  Find Kuba on the bread stall in the courtyard.
Smokery – London Smoke & Cure. Ross says "All produce is made and prepared in our new smokehouse just down the road in Streatham. Give me a call on 07837 838 241 for any questions or pre-orders. We're always happy to talk produce and ideas, or just to have a general chat about life and all its wonder. Look forward to seeing you down there."
Wine
Natural wines – Wine Scouts. Organic and biodynamic wines from around the globe.  Samples always offered by Pedro who is a font of wine knowledge. "This Sat I will open a beautiful, organic red wine from Asturias in Northern Spain, Dominio del Urogallo Tinto La Fanfarria. Salty and herbaceous on the nose, with berry seeds, cherry pits, and hints of earth; bright and cool, with tense minerality, acidity, and tannins, between light- and medium-bodied, with wild cherry, sour cherries, tart cranberry and raspberry and florals on the long finish. Delicious and utterly drinkable yet with enough tension for food. Composed of old vine Albarín Tinto (50%) and Mencia (50%) grown on extremely steep slopes in the Cangas region. Urogallo's winemaker Nicolás is an independent thinker and a bit of a provocateur, he left his home in Toro for Asturias because he saw the potential of the region's soil, climate and indigenous grapes to produce the kind of wines that he loves: elegant, aromatic, low in alcohol, food-friendly and expression.  So good."
Produce this week
Fruit and veg – Brambletye Fruit Farm, Brockmans & Wild Country Organics  All organic or biodynamic.  Check out this blog about Brambletye.
Meat –Gill Wing Farm Full range of sustainably farmed meats from East Sussex.  Meet the farmer and butcher Andrew on the stall.
Fish – Veasey's  Full slab from their own boats and others.  To order, email info@veaseyandsons.co.uk or phone on 01342 822906.  Check out this blog about Veasey's.
Butter & other dairy – Hook & Son Organic dairy from farmer Steve's closed herd on the Pevensey Levels. Please note, for the next couple of months, Hook will not be able to sell raw milk. Please click here for full details. We hope you join us in supporting the farm during this difficult time.
Local growing project –Patchwork Farm  Reopening soon.  Are you a grower or have a fruit tree in your garden?  Bring your gluts so they don't get wasted.  Do you like local fruits and veg?  Come and see what's on offer and pay what you want.
Eco products, beauty, artists & makers
Eco products – Roots & Cycles. Eco products, refills.  New in stock  – refillable shampoo, conditioner and castille soap.  Organic, vegan and all produced in London.  Just bring your containers and fill up.
2 pence a ml. Check out their newsletter here.
Hats – by Venus  One off designer pieces.
Candles – Kairos Moon Colourful aromatherapy candles, also in the walkthrough.
Jewellery and shawls – Nou Moon  Beautiful collection of original Indian fare sold by local Anoushka.
Beauty – Flore Naturals  Natural beauty products made in SE19.  Meet the maker Flore on the stall.  She says "We offer a varied selection of skin and body care items that are safe on your skin. Using natural and organic products is one of the easiest ways to make you look good. They are gentle on your skin and offer a maximum health benefits.  We don't make products that just look and smell good. We do what we do because we are passionate about nature and her ability to heal the body and mind."
Original illustrations – Images Delmar   Dylan sells original illustrations and also runs a picture framing service.
Local art & craft stall – Palace Makers  Part of  Transition Town and open to Artists, designers, makers and craftspeople who live in the local and surrounding areas. If this sounds like you or someone you know, and you/they might like to be part of this weekly stall, please contact us via our Facebook page here.
Collectables market – our neighbour market Haynes Lane Market, a treasure trove of collectables.  Click here for a little peek inside.
Cafe – our friends at Antenna Cafe.
Other stuff
Crystal Palace Transition Town information
The Foodbank – Details at https://norwoodbrixton.foodbank.org.uk/  Total donated so far 1598kg.   We also collect donations for The Hygiene Bank. All donations of sanitary products, soap, shampoo, nappies and more are welcome.   Queen from The Hygiene Bank says "When people are in difficult situations and it's between food and hygiene it's the hygiene they drop.  No one should have to go without washing or sanitary products."
News From Crystal Palace – we love this local news page from our friend, journalist Jerry Green.
Save Central Hill Community – support our neighbours & find out more about the proposed demolition of the estate, and how it would everyone in the area.
Our neighbours – Antenna Studios  Music, dance, performances, practice, recording & more. Also loads of great classes and the best coffee in the Palace.
We are proud to be part of Crystal Palace Transition Town.  Wondering who we are, what we do, or how you could get involved? Our blog section is a great place to start or this talk given by Joe Duggan, one of the co-chairs.
Follow us on twitter @CPFoodMarket or join us on Facebook.
WEDNESDAY MARKET NEWS
We're now open every Wednesday 2-7pm, in the courtyard of Haynes Lane, with the following stalls; Brockman's Farm, who sell organic & biodynamic veg, fruit & eggs; The Store Cupboard with organic refills by weight; Bread Bread with a small range of woodfired bread and Roots & Cycles for refiling all your washing and cleaning liquids.  And get a tea or coffee at the lovely Antenna Cafe.
CRYSTAL PALACE FOOD MARKET SATURDAYS 10 am to 3 pm HAYNES LANE OFF WESTOW STREET SE19
________________________________________________________________________
NORWOOD PLANNING ASSEMBLY AT WEST NORWOOD LIBRARY'S 50TH ANNIVERSARY CELEBRATIONS
Norwood Planning Assembly will be having a stall today (Friday 12th April) 10.30am – 3pm and Saturday 11am – 4.30pm as part of West Norwood Library's 50th anniversary celebrations.
Do come along and visit us to check out our Plan progress, now entitled Norwood's Green Town Plan. We have copies of The Plan structure to share with you. We also have a survey where you can share your thoughts about your future vision for Norwood. We look forward to hearing your views. (Source: Norwood Planning Assembly)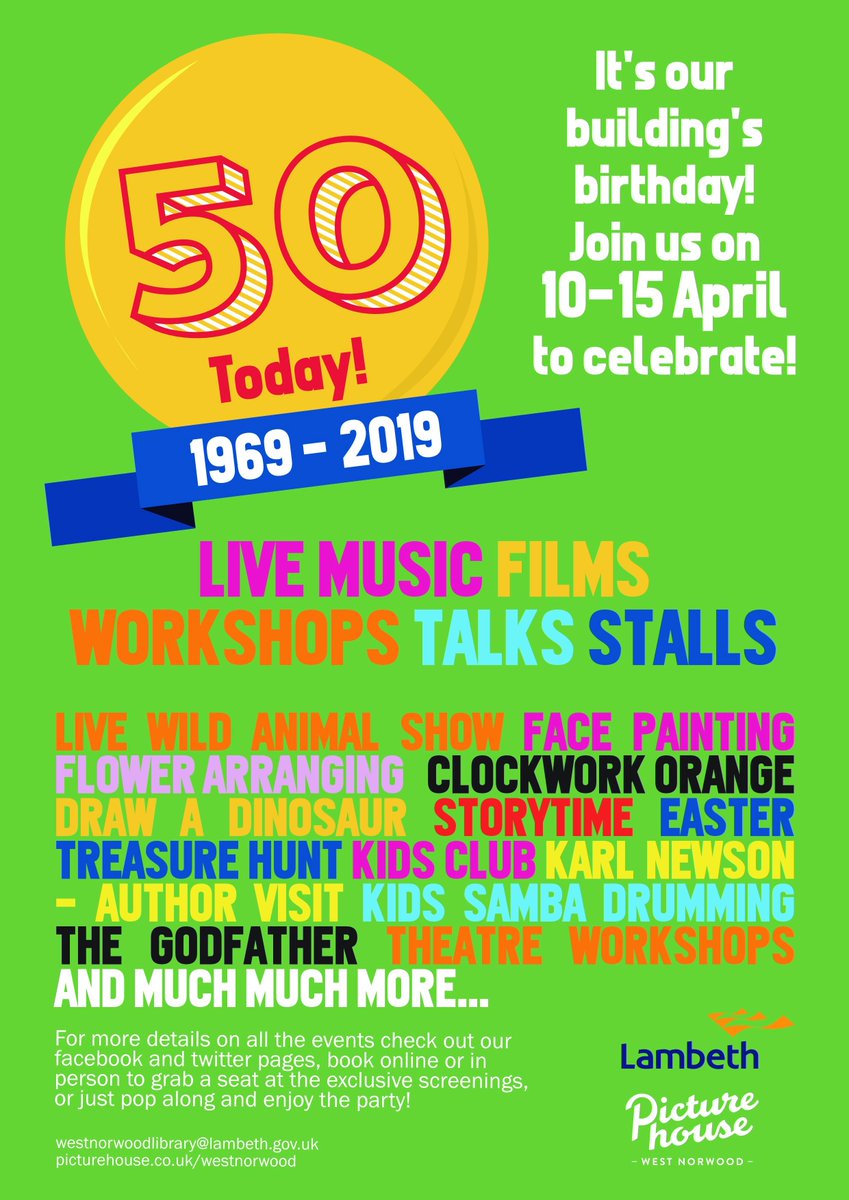 A WALK ROUND CRYSTAL PALACE THIS SATURDAY
JOIN THE FRIENDS OF STAMBOURNE IN THE WOODS AND GET FLOWERY!
First of all, an apology to anyone who turned up last month: we had to cancel due to the high winds. And just as well we did – you might have seen a fallen tree behind the log seating that was blown down in the storms. Since then, Spring has arrived, and flowers are coming out in Stambourne Woods. So we'll be back this
Sunday morning 14th April, 10am – 1pm. Meet at the Auckland Road entrance
This time
We've been given a pack of wildflower seeds by Grow Wild, which we'll be planting near the bottom and top entrances. And If you'd like to learn more about wild flowers and fungi, such as which flowers to grow to attract bees or butterflies, and how to grow them, take a look at the Grow Wild website.
Depending on numbers, we'll also be creating some deadwood hedges to provide habitat for wildlife. Kids are welcome and, as always, and they can choose to join in with the work or to play.
Coming up….
Our next activity day will be Sunday 12th May …and every second Sunday of the month.
Membership
If you aren't a member already, we'd love you to join our group. Membership is free, but you'll be helping us out by joining. Simply send an email to say 'Yes, I'd like to be a member' and give us your name and email address.
Visit us on Facebook
If you can't wait till next month's newsletter, check the updates on our Facebook page. Come and see more about what's we've got in store.
See you in the Woods! (Source: Friends of Stambourne Woods)