Lunches this Saturday
Lunch & deli – Comfort & Joy Hot tasty wraps, salads and those famous scotch eggs plus takeaways – curries, lasagne and more.  Great picnic food to take away.
Guest lunch – Simply Tay  Sarwat is making "Chicken curry; Fish curry; Vegan curry; Vegan Daal. Served with rice. Plus her famous samosas with scotch bonnet sauce."
Vegan lunch – Benin Bronze  West African street food made by Setondji.
Cakes
Cakes – Brett & Bailey Need a whole cake? Order online by Wednesday nights to collect from the following Saturday's market."
Free from cakes – Simply Tay  Some gluten free, some vegan, some both.  Made by Tayyaba.  This week Tay is making "Gluten free – Mini coconut macaroons; beetroot chocolate cake; Persian love cake.  Vegan –lemon drizzle cake; .  Gluten free and vegan – peanut butter squares (no added refined sugars); carrot hazelnut bunt; chai almond cake; turmeric chia energy balls; raspberry cashew energy balls; Matcha energy balls."
Pastries – Levain Bakery pastries, Portuguese custard tarts, doughnuts.
Pastries – Bread Bread Croissant, pain au chocolat, pain au raisan, almond croissant and much more.
Visiting stalls
Ferments – Palace Culture Fermented nut cheeses – all vegan.  Mirko says "I will have a special blue cheese and semi hard smoked cheese on saturday + my usual vegan cheese spreads."
Vegan chocolates – Gemini Chocolates  Made by Sam.
Preserves – Creative All Sorts Jams, sauces and more, made by Christine.
Spicy preserves – Chilli Brothers Nathalie says 'We are back after a lovely Easter break. Now it's the start of the barbecue season come down and try our wonderful selection of our gourmet artisan crafted chilli sauces & condiments. Looking forward to seeing you there. "
Olive oil and olives – Yellow Sunshine  Olives, baklava, Turkish delight 
Ferments & more – Black Garlic Made by Michael.
Groceries
Storecupboard refills – The Store Cupboard  You can pay by card or cash. Follow us on Instagram, Twitter or Facebook.  We are also open on Wednesdays from 2-7pm.
Cheese & charcuterie – Capo Caccia  
Smokery – London Smoke & Cure  Ross says "All produce is made and prepared in our new smokehouse just down the road in Streatham. Give me a call on 07837 838 241 for any questions or pre-orders. We're always happy to talk produce and ideas, or just to have a general chat about life and all its wonder. Look forward to seeing you down there."
Fresh pasta – Pasta di Grazia   Full range of handmade Italian pastas and sauces.
Bread – Levain Bakery  Chris Masembe and his team at Levain Bakery have a simple philosophy; to make artisan breads to the highest possible standards. All breads are sourdoughs and are made using their own sourdough starter, a labour of love which they have kept going since they first started the bakery.  Find Kuba on the bread stall in the courtyard.
Bakery & pastries –  Bread Bread   Woodfired sourdough bread and pastries, made in Brixton.  Find Bread Bread in their new spot in the lower market, next to Brockmans Farm.
Wine
Natural wines – Wine Scouts. Organic and biodynamic wines from around the globe.  Samples always offered by Pedro who is a font of wine knowledge.  Pedro says "This Saturday I will open the new vintage of a beautiful red wine from Piedmont in Northern Italy. The Umberta Iuli Barbera has a sun-splashed ripeness that rolls through soft tannins from blackberries into black liquorice and a smoky wisp of lapsang souchong tea, lingering like a very fine and fancy jam. Fabrizio Iuli makes his wines with as little intervention as possible, allowing the purity of his organic fruit and the unique expression of his special terroirs to show through. Though his vineyards are scattered among 18 sites, a vein of limestone runs through all of them, which give them their vigorous character and acidity. This wine is aged in concrete for 11 months and is fresh, vibrant and earthy. So yum!"
Produce this week
Fruit and veg – Brambletye Fruit Farm, Brockmans & Wild Country Organics  All organic or biodynamic.  Check out this blog about Brambletye.
Meat –Gill Wing Farm Full range of sustainably farmed meats from East Sussex.  Meet the farmer and butcher Andrew on the stall.
Fish – Veasey's  Full slab from their own boats and others.  To order, email info@veaseyandsons.co.uk or phone on 01342 822906.  Check out this blog about Veasey's.
Butter & other dairy – Hook & Son Organic dairy from farmer Steve's closed herd on the Pevensey Levels. Please note, for the next couple of months, Hook will not be able to sell raw milk. Please click here for full details. We hope you join us in supporting the farm during this difficult time.
Local growing project –Patchwork Farm  Reopening soon.  Are you a grower or have a fruit tree in your garden?  Bring your gluts so they don't get wasted.  Do you like local fruits and veg?  Come and see what's on offer and pay what you want.
Eco products, beauty, artists & makers
Eco products – Roots & Cycles. Eco products, refills.  New in stock  – refillable shampoo, conditioner and castille soap. Organic, vegan and all produced in London.  Just bring your containers and fill up.
2 pence a ml. Check out their newsletter here.
Upcycling – House of Funky Junk All sorts of random things, turned into funky housewares. Made by Alex & Clementine.
CDB and more – Eat Moringa Plus handmade incense and lots more from David.
Blacksmith – Marco Handmade metal items, made by teen blacksmith Marco.

Candles – Kairos Moon Colourful aromatherapy candles, also in the walkthrough.
Jewellery and shawls – Nou Moon Beautiful collection of original Indian fare sold by local Anoushka
Beauty – Flore Naturals  Natural beauty products made in SE19.  Meet the maker Flore on the stall.  She says "We offer a varied selection of skin and body care items that are safe on your skin. Using natural and organic products is one of the easiest ways to make you look good. They are gentle on your skin and offer a maximum health benefits.  We don't make products that just look and smell good. We do what we do because we are passionate about nature and her ability to heal the body and mind."
Original illustrations – Images Delmar   Dylan sells original illustrations and also runs a picture framing service.
Local art & craft stall – Palace Makers  Part of  Transition Town and open to Artists, designers, makers and craftspeople who live in the local and surrounding areas. If this sounds like you or someone you know, and you/they might like to be part of this weekly stall, please contact us via our Facebook page here.
Collectables market – our neighbour market Haynes Lane Market, a treasure trove of collectables.  Click here for a little peek inside.
Cafe – our friends at Antenna Cafe.
Other stuff
Crystal Palace Transition Town information
The Foodbank – Details at https://norwoodbrixton.foodbank.org.uk/  Total donated so far 1598kg.   We also collect donations for The Hygiene Bank. All donations of sanitary products, soap, shampoo, nappies and more are welcome.   Queen from The Hygiene Bank says "When people are in difficult situations and it's between food and hygiene it's the hygiene they drop.  No one should have to go without washing or sanitary products."
News From Crystal Palace – we love this local news page from our friend, journalist Jerry Green. 

Save Central Hill Community – support our neighbours & find out more about the proposed demolition of the estate, and how it would everyone in the area.
Our neighbours – Antenna Studios  Music, dance, performances, practice, recording & more. Also loads of great classes and the best coffee in the Palace.
We are proud to be part of Crystal Palace Transition Town.  Wondering who we are, what we do, or how you could get involved? Our blog section is a great place to start or this talk given by Joe Duggan, one of the co-chairs.
Follow us on twitter @CPFoodMarket or join us on Facebook.
CRYSTAL PALACE FOOD MARKET HAYNES LANE OFF WESTOW STREET SE19 SATURDAYS 10 am to 3 pm
……………………………………………………………………………………………………………………………………………….
STEEL PANS IN THE CRYSTAL PALACE STATION BOOKING HALL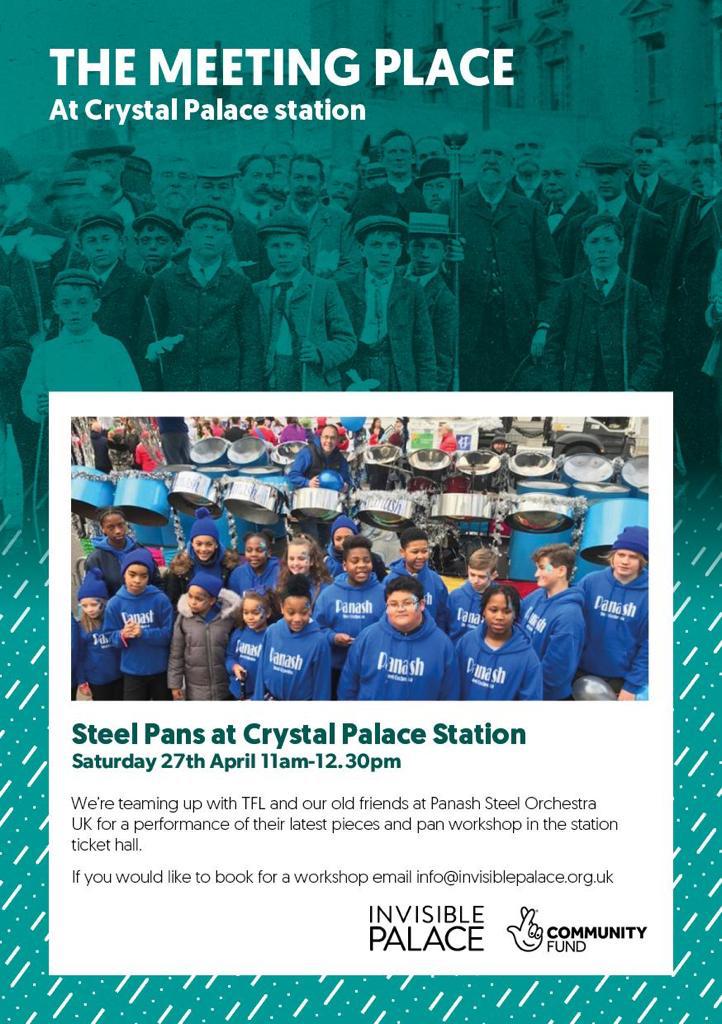 Steel Pans at Crystal Palace Station
Saturday 27th April 11am-12.30pm
Join us at Crystal Palace station where we're teaming up with TFL and our old friends at Panash Steel Orchestra UK for a performance of their latest pieces.
Panash will also be running some workshops which are open to everyone. If you fancy having a go email info@invisiblepalace.org.uk (Source: Invisible Palace)