First new #exhibition by Lucy Cooper on the Mulberry Wall installed today looking amazing! Lucy creates semi #abstact #prints capturing ever changing movements in a snapshot of time. Come and meet her this Fri 4th Oct at our October #artist #launch Bar from 7-10pm
FROM BOOKSELLER CROW: Thursday 10th October 7.30pm
As many of you are aware, the last couple of months have not been very kind to us, with August being our quietest month for many years. To add to this our landlords are proposing to almost double our rent and a planning application has been put to Croydon council to turn the property next door to us into a 24 hour McDonalds takeaway – I know, you couldn't make it up.
We are therefore launching Stoke the Crow! a campaign of events to help raise awareness and funds for the challenges ahead – which may well include having to go to arbitration. Details of our crowdfunder launched last Friday here – the response to which has been, frankly, amazing. Thank you.
Our next event in support is with the wonderful Ben Moor and Jo Neary. They did this show earlier in the year and it is genuinely one of the best things we've ever put on.
This is what Andy Miller said about it on twitter This is the best book event of all time btw. I'm not tagging Ben or Jo but I've seen hundreds of the bloody things and it really is.
Authors Jenny Nibbingley and Burton Mastrick are long-term supporters of Bookseller Crow and have agreed to help STOKE THE CROW with a special performance of BOOKTALKBOOKTALKBOOK. They've launched many of their books here, including Hatred of Broccoli, Only If I Have To and Why Reigate. Such was the success of their event earlier this year that they're delighted to come once more to be interviewed by Tim Timminey, from The Obversations Podcast, about their lives, works, and working lives. Comedians Jo Neary and Ben Moor will be on hand, in case the evening descends into a weird performance piece about teaspoons, awkward book events and bad card tricks. But surely that won't happen. Will it?
Tickets £7.50 (including bookshop donation)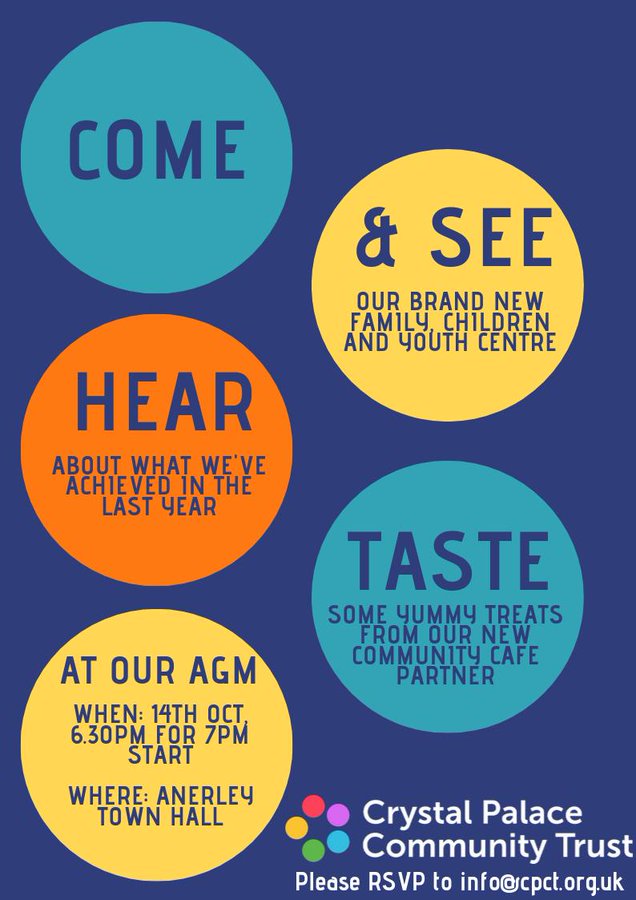 Crystal Palace Community Trust @CPCtrust
Come and see our brand new #children #youth and #family centre at our #AGM on 14th OCT 6.30pm for 7pm start. Let us know you are coming by DM'ing us #crystalpalacecommunitytrust #anerleytownhall