Guy's and St Thomas's NHS Trust (GSTT) decision to  become an accredited Living Wage employer from May this year has been welcomed by a senior Lambeth councillor.
The trust becomes the 6,000th organisation in the country to make the official pledge. With St Thomas' hospital and Evelina London children's hospital both Westminster Bridge Road and Guy's Hospital Great Maze Pond, plus a large community workforce, GSTT is Lambeth's biggest employer to commit to ending what a Lambeth council statement calls "poverty wages."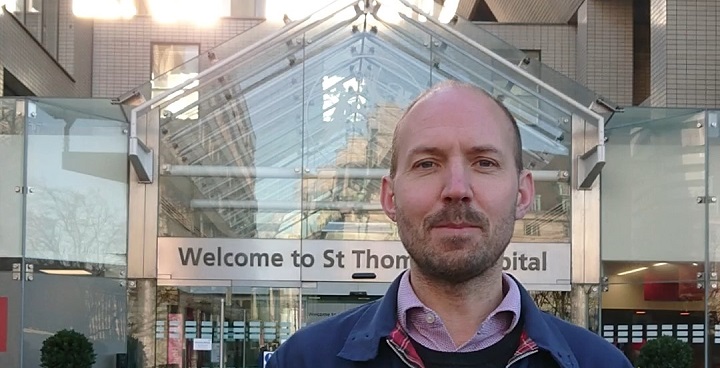 Cllr Ed Davie (pictured), Lambeth council's cabinet member for health and adult social care, says: "This is great news for hundreds of cleaners, caterers, porters, security guards and others to be starting the New Year with. "Lambeth council are absolutely committed to ending poverty wages for our hard-working residents and this is a major step in that battle. "Many congratulations to GSTT and we look forward to working with all our NHS partners to create even more fairly paid, high quality jobs for our residents."
A council statement says Lambeth councillors have been working with GSTT and the Living Wage Foundation for more than a year to support the NHS Trust in getting accredited. In May Cllr Davie and fellow cabinet member Cllr Jacqui Dyer joined the council's living wage policy lead Cllr Jon Davies in hosting a living wage workshop at Lambeth town hall for local NHS Trusts.
"GSTT, King's College Hospital and South London and the Maudsley NHS Trusts all committed to seeking accreditation having received advice from Lambeth council finance officers, the Living Wage Foundation and University College Hospital, which was already accredited.  "Since then, councillors have continued to encourage the NHS trusts to seek accreditation as soon as possible. "The hard work has paid off with GSTT's workers, and those it contracts, being paid at least the London Living Wage rate of £10.75 an hour from May 2020.
"The rate is significantly higher than the government's national minimum wage of £8.21, with the real Living Wage independently calculated to ensure all workers, including outsourced and contract staff, can meet the cost of living and earn enough to support themselves and their families. "GSTT is one of the largest hospital trusts in the country, with 17,100 staff and the move will mean that some will gain more £100 a week.
"Lambeth council have been a London Living Wage accredited employer since 2012 and became the first borough with a Living Wage building – International House in Brixton. "The council has supported other employers in the borough to pay the rate and get accredited with the aim of ending poverty wages and deprivation in Lambeth. "Currently 18 per cent of workers in Lambeth are paid below the London Living Wage rate and the council is determined, and succeeding, in bringing this down to as near to zero as possible."